Author: Xela Culletto
Narrator: Tonia Blake
Length: 7 hours 2 minutes
Publisher: Xela Culletto
Released: May 21, 2018
Genre: Science Fiction; Young Adult


Before the Vela invasion, Rhyan's biggest concern was getting through a day of school. But when she is thrust into the madness of a kill-or-be-killed world, her true strength emerges and a deadly warrior is unleashed.

Stumbling through the new morals of a post-apocalyptic world, she learns to depend only on herself. As she gets closer to discovering what the aliens actually want, her lethality becomes unmatched, and she soon learns the extent she'll go to in order to survive.



Xela is a working mother of three, living in the Utah. Currently in her ninth year of teaching secondary education, she decided that after talking to students about achieving their dreams, she would take her own advice and complete a lifelong goal of writing a novel. When not playing Legos with her sons, or sorting through the endless laundry, you'll find her watching The Walking Dead, horseback riding, or working on her next book.

Growing up, Tonia told stories at sleepovers and sang in competitive chorale groups. Storytelling and songs eventually gave way to the competing interests of science and veterinary medicine, but she continued to indulge a reading addiction so fierce it led to a recurrent and rather jaunty facial tic under one eye. Audiobooks to the rescue!
Her stethoscope now lives in her sock drawer, and she's delighted to be telling stories once again, this time narrating audiobooks from her at-home studio in mid-coast Maine. When she's not in her vocal booth, she enjoys spending time with her family, fur-babies, and on her yoga mat.

This is a difficult review to write. I liked the book, but it is not an easy read. It's more focused on character development than on the action. It follows our main character trying to survive a rather hostile world, post-alien invasion and we see her facing aliens, people and feelings. It is an interesting analysis of human reactions in different circumstances and I believe the author did a really good job in pointing out the main ideas.
Little happens from plot perspective. As I was mentioning, the first book is more focused on the main character. But it does leave a strong continuation for the next part. The writing is very good, very focused on Rhyan and her feelings. The title is so well chosen. It may seem a little confusing but believe me, she is the girl versus…. all! We are offered her perspective and that helps a lot to understand her thoughts.
Rhyan has lost her family to the Vela (the aliens that have invaded our dearest planet) so her not so friendly feelings towards them are quite justifiable. Her objective now is to survive and kill as many as possible. However, her growing in a world in which one has to fight for survival has left her with little knowledge of love and friendship. We see that her humanity is not lost, as she protects the ones who stand by her, but faced with love, she does not know how to handle it.
The narration was ok, with little comments. I heard little to no voice acting, but it was a clear and clean performance. I would have wanted to feel more from the narrator, to see her more involved in the character, but I cannot complain much. I do believe it is easier to listen to the book, rather than reading it, for those of you who want action, action and more fighting.
All in all, I did enjoy the book and I am looking forward to see what happens in the next one. For the moment, 3.5 stars. Currently there is no sequel added on Goodreads, but if you follow my other colleagues that are taking part in this blog tour, you may find out something directly from the author. Until next time, enjoy!
I received this audiobook as part of my participation in a blog tour with Audiobookworm Promotions. The tour is being sponsored by Xela Culletto. The gifting of this audiobook did not affect my opinion of it.

Jul. 19th:
Jul. 20th:
Dab of Darkness Audiobook Reviews
Jul. 21st:
Jul. 22nd:
Jul. 23rd:
Jul. 24th:
Jul. 25th: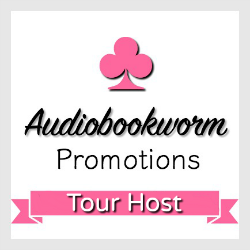 ➜Sign up as a host here