Author: Casi McLean
Narrators: Aundrea Mitchell
Length: 10 hours 9 minutes
Series: Lake Lanier Mysteries, Book 1
Publisher: The Wild Rose Press
Released: Aug. 9, 2017
Genre: Time Travel Romance


Reeling from her boyfriend's indiscretions at a party, Lacey Montgomery escapes into the throes of a torrential storm. Her car spins out of control and hurtles into the depths of an icy, black lake. She awakens in the arms of a handsome stranger, in a place she's never heard of—thirty-four years before she was born.

Bobby Reynolds is smitten the moment the storm-ravaged woman opens her eyes. Learning the truth about her origin does nothing to stop the passion taking root in his heart and leaves him torn between finding a way to return Lacey to her time and convincing her stay with him.

Will the couple be able to discover the key to a mysterious portal before time rips them apart? Or will their spirits wander forever through a ghost town buried beneath the lake?




Award winning author, Casi McLean, pens novels to stir the soul with romance, suspense, and a sprinkle of magic. Her writing crosses genres from ethereal, captivating shorts with eerie twist endings to believable time slips, mystical plots, and sensual romantic suspense, like Beneath The Lake, WINNER: 2016 Gayle Wilson Award of Excellence for BEST Romantic Suspense.

Casi's powerful memoir, Wingless Butterfly: Healing The Broken Child Within, shares an inspirational message of courage, tenacity, and hope, and displays her unique ability to excel in nonfiction and self-help as well as fiction. Known for enchanting stories with magical description, McLean entices readers in nonfiction as well with fascinating hooks to hold them captive in storylines they can't put down.

Her romance entwines strong, believable heroines with delicious hot heroes to tempt the deepest desires then fans the flames, sweeping readers into their innermost romantic fantasies. Ms. McLean weaves exceptional romantic mystery with suspenseful settings and lovable characters you'll devour. You'll see, hear, and feel the magical eeriness of one fateful night. You'll swear her time travel could happen, be mystified by her other worldly images, and feel heat of romantic suspense, but most of all you'll want more.
Website⎮Facebook⎮Twitter⎮Goodreads⎮Instagram

After receiving her B.S. and MBA with a concentration in Health Care Management, Aundrea fell madly in love and decided to start her family. Ten years and five children later she was quickly living the full time wife, mother and household management life. Needing a temporary escape from time to time Aundrea returned back to her first love – reading! After devouring everything she could get her hands on she thought, -what if she could mix her love of performance and literature in a professional capacity? Once getting involved in the world of book narration she quickly became hooked and when not with her family you can find her in her studio working hard to grow in her own storytelling abilities.


"Beneath the Lake" was a wonderful read, a story that captivated me from the beginning. The time travel element was well presented and the action did not seem dull to me at all.
Our main character, Lacey Montgomery runs out of a party after seeing her boyfriend with another woman. She accidently falls into Lake Lanier and passes through a time gate of sorts and wakes up in 1949. She will now try to understand if her trip back in time has a purpose, in the same time try to make sense of her feelings for her host, Bobby Reynolds.
What I mostly liked about the story was how well the author has incorporated the time travel aspect with the romance. I think this is my second read with this theme, but Lacey is constantly trying to find a way back and knows her time is this period is limited. However, she takes advantage of every minute. As well, the jump between past and present is well weaved into the story. And to be honest, this is what mostly kept me till the end. Who is Rob? Why does he want revenge? These are just some of the questions you will find out by the end of the story.
The characters are like normal people, nothing abnormal, no heroes or anything like that. They make do with what they have. And this is exceptional J Their actions are not forced or anything. The simple way of their connection is well in line with the customs of the 1940s.
All in all, I liked the book quite well and I have no complains in regards to the story, The narration was ok, although Bobby's voice was more like whispered. A total of 4 stars and my thanks to Jess and the author and narrator for this great story!
I received this audiobook as part of my participation in a blog tour with Audiobookworm Promotions. The tour is being sponsored by Aundrea Mitchell and Casi McLean. The gifting of this audiobook did not affect my opinion of it.

Beneath the Lake Giveaway: $40 Amazon Gift Card

Nov. 8th:
The Audiobookworm

Nov. 9th:
Nov. 10th:
Nov. 11th:
Nov. 12th:
Nov. 13th:
Nov. 14th: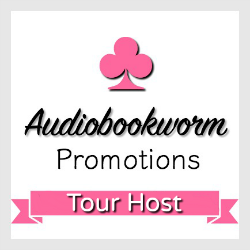 ➜Sign up as a host here