Author: Roz Lee
Narrators: Jay Harper
Length: 8 hours 47 minutes
Publisher: State of Mind
Released: Aug. 28, 2017
Genre: Contemporary Romance
After five years spent proving his innocence in a gambling scheme, Jimmy Doyle Walker is back on the field for the Washington Diplomats. Given one season to demonstrate he can still contribute to the team, he guards his secrets well, knowing exposure of his unorthodox sex life would create a career-ending scandal. When he meets Evelyn Gardner, she tests his resolve, and he risks everything to show her the delights to be found in his arms.
Living day-to-day as a switchboard operator, Evelyn Gardner loathes the sexual cravings that cost her the home and family she'd always dreamed of. When she meets Jimmy Doyle Walker, the sexy first baseman for the Washington Diplomats, at a church revival meeting, he challenges her beliefs and her expectations. Determinedly, he seduces her through erotic letters, sensual gifts, and sexual play, until she dares dream she can have satisfaction and respectability.
Too bad her father, the preacher, seems set on ruining not only their reputations but also their lives.


USA Today Bestselling Author, Roz Lee is a displaced Texan who lives in New Jersey with her husband of almost four decades, and Bud, an overly large rescue dog who demands regular romps in the woods.

The mom of two daughters and grandma to the cutest baby boy ever, Roz collects Depression glass, and teacups with rose patterns. Her favorite food is Tex-Mex, and she's never met a piece of chocolate she didn't like.

When Roz isn't writing, she's reading, or traipsing around the country on one adventure or another. Warning—she brakes for antique stores!


From providing voiceovers and audio for warm and professional narrations and business presentations, telephone system and on-hold messages to high energy, over-the-top, hard sell radio, television and online commercials, Jay Harper offers voiceover versatility that showcases his 25-plus years of experience. He also has a state-of-the-art studio and equipment to ensure top quality recordings.


Suspended Game Giveaway: $50 Amazon Gift Card

Jan. 18th:
Cali Book Reviews
Jan. 19th:
London's Scribbles
Jan. 20th:
Bookworms' Corner
Jan. 21st:
Lilly's Book World
T's Stuff
Jan. 22nd:
Adventures Thru Wonderland
Jan. 23rd:
Jazzy Book Reviews
Jan. 24th:
The Book Addict's Reviews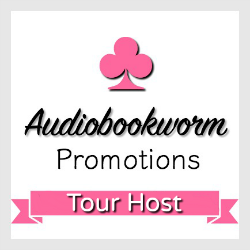 ➜Sign up as a host here