Author: Julie C. Gilbert
Narrators: Caitlin Jacques
Length: 4 hours 24 minutes
Series: Redeemer Chronicles, Book 1
Publisher: Julie C. Gilbert
Released: Jan. 30, 2017
Genre: Fantasy


Being the Chosen One could kill her….

Victoria Saveron knows two things for certain. Dark forces want to kill her, and her friends have cooler powers than she does. Katrina can shapeshift and Tellen can tap into destructive magic currents.

Everything else is uncertain and rumors abound.

Victoria might be the Chosen One, whatever that means. Her father might be able to help them, but only if they can find him. Coldhaven's villagers might be able to offer them food and shelter. Some fool might be running around unlocking Darkland portals to raise an undead army.

The further Victoria and her companions get on their journey, the more dangers and betrayals they face. They must awaken Vic's true powers or forfeit the world.



Julie C. Gilbert teaches high school chemistry and writes in several genres, including nonfiction, fantasy, mystery, and science fiction. She lives in the money sign state (New Jersey) and can be found hoarding stickers and Star Wars toys.

Caitlin Jacques is both an awesome narrator and a stellar audio engineer. She lives in Washington.

Should she or should she not believe all this nonsense about being the chosen one? Well, she's young, not powerful, with only 2 friends, actually with only a handful of people she's talked to all her life. What's so special about her? Well someone out there had different plans for her.
The Redeemer Chronicles start with a great story, while skipping all introductions. Bits and pieces of the history are explained throughout the book, by more than one character. That's the most impressive thing about this book. We have our young main character, whose inexperience is visible from the start, but we get as well the other characters' opinions. Be they Victoria's friends or foes, they all have a contribution to her development.
She stars as an innocent teenage girl, on a mission to find her father, but in the process learns more about herself than she ever could imagine. Her idea of not having cool powers, or not being strong like her friends, or having a dull life (actually no social life at all) will soon prove to be wrong, as everything has its purpose.
The narration was not bad at all. I liked how Caitlin Jacques managed to transform her voice and perform each POV distinctively. When it comes to our main character's voice, she kind of overdid it in the beginning, as she sounded a bit spoiled in my opinion. There are some effects here and there, for example when Vic hears a voice in her head, and were very welcomed.
Even if I had some issues with the many characters involved and with the multiple places the action jumps to, I liked the audiobook quite a lot and I think this is such a great start for a great series. 4 stars from my end.
I received this audiobook as part of my participation in a blog tour with Audiobookworm Promotions. The tour is being sponsored by Julie C. Gilbert. The gifting of this audiobook did not affect my opinion of it.

Awakening Giveaway: Kindle Fire 7

Jan. 25th:
The Audiobookworm
Dab of Darkness Audiobook Reviews
Jan. 26th:
Jan. 27th:
Jan. 28th:
Jan. 29th:
Jan. 30th:
Notes from 'Round the Bend
Jan. 31st: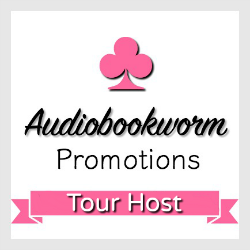 ➜Sign up as a host here