Author: N.E. Conneely
Narrator: Jeff Hays, Soundbooth Theater
Series: A Witch's Path, Book 1
Length: 7 hours 14 minutes
Publisher: N.E. Conneely
Released: Feb. 11, 2015
Genre: Paranormal, Supernatural


Most witches don't work for police departments, but Michelle isn't your average witch. She's clanless, looking for a wizard who isn't offended by her lack of family connections, and in danger of losing her job if she can't find the escaped trolls before they start eating the local residents.

Trolls, angry police, and misbehaving spells are the least of her problems. Statues attacking homeowners might be problematic for your average witch, but to Michelle it's another day at the office. Her real concern is the wizard suddenly interested in dating her and an old elf set on pestering her. When her happy family is rocked by a long kept secret her stable life falls apart faster than she can pick up the pieces.



N.E. Conneely lives in northern Georgia with her dog and a mountain of books. They sweat through the summer and freeze through the winter, and life as they know it comes to an end when so much as a single snowflake falls out of the sky. For fun, N.E. plays with her dog, reads, knits, crochets, paints, and does tie-dyeing and origami. She makes a great pizza and is currently negotiating with her husband about raising sea monkeys and growing a vegetable garden.

Jeff Hays has made a name for himself in the audio book world by creating immersive experiences out of his productions. His versatility and authenticity in voicing characters, expressive low-impact narration, and dedication to offering the highest quality audio possible has earned him a loyal following of listeners. Having been fascinated with sound since he can remember, Jeff takes his background of composing and producing music, and his continual consumption of the avalanche of fictional media we all experience in these modern times, and uses it to inform his style of story telling in the audiobook realm.

And now, having produced more than 80 audio books and perfecting his craft, using the namesake of his live streaming narration show, the Soundbooth Theater shingle has been hung. Soundbooth Theater is dedicated to applying Jeff's production methods to new audio books with other budding narrator talent, and expanding his scope from audio books, to voicing and producing animation.

A book with lots of magical creatures, in a world where magic is something as common as riding a bicycle, "Witch for Hire" is more of an introduction to the actual story. Michelle offers her services to various police departments and helps solve many intriguing cases. Many aspects may seem unimportant but there is a relationship between all aspects and that will be detailed in the other titles in the series.
Michelle is friendly, very helpful and always ready to set the things on the right path. She struggles a lot to keep her business and tries her best to please all who need her services. I liked how the author developed her as a woman and as a character. She is not flawless or a know-it-all. And she is perfectly conscious of her unfavorable circumstances as she is not part of any witch clan. She is not presented as an extraordinary witch, although she can do many spells on her own. Her interactions with her neighbors are friendly as well, although one particular Elf gives her confusing feelings.
We have two POvs, but most of the story is told from Michelle's perspective. Elron's thoughts are not necessarily related to the current action but will become clearer towards the end. I liked him a lot. I liked his innocence when it comes to these "modern times".
The narration was more than exceptional. Jeff Hays has put a lot of effort in the development of this audiobook and the results are amazing. We have sound effects, we have different voices, we have proper intonation. I loved it and I cannot wait to see if anything new is added to the next books.
Even if I had some small issues with the writing (Michelle is always tired and is always ready for a good night's sleep), I am very eager to discover what happens with Michelle next and what is going on with all these cases. So yes, a great beginning, another 4 stars J
I received this audiobook as part of my participation in a blog tour with Audiobookworm Promotions. The tour is being sponsored by Jeff Hays. The gifting of this audiobook did not affect my opinion of it.

A Witch's Path Series Giveaway: 3-Month Audible Membership

Book 1
Jan. 28th:
Dab of Darkness Audiobook Reviews
Jan. 29th:
Bean's Bookshelf and Coffee Break
Jan. 30th:
Jan. 31st:
Feb. 1st:
Feb. 2nd:
Feb. 3rd:
Book 2
Feb. 4th:
Bean's Bookshelf and Coffee Break
Feb. 5th:
Dab of Darkness Audiobook Reviews
Feb. 6th:
Feb. 7th:
Feb. 8th:
Feb. 9th:
Feb. 10th:
Book 3
Feb. 11th:
Dab of Darkness Audiobook Reviews
Feb. 12th:
Bean's Bookshelf and Coffee Break
Feb. 13th:
Feb. 14th:
Feb. 15th:
Feb. 16th:
Feb. 17th: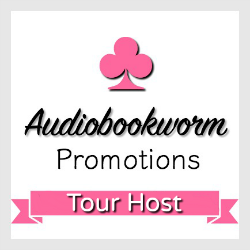 ➜Sign up as a host here