Author: Errin Stevens
Narrator: Sean Posvistak
Publisher: Errin Stevens
Released: Apr. 20, 2017
Series: The Mer Chronicles, Book 1
Length: 8 hours 37 minutes
Genre: Romantic Fantasy


For Kate Sweeting, love isn't in the air. It's in the water.

Since her father died, Kate Sweeting's home life has been in the pits, her well-being on life support. Her future looks desolate until she and her mother, Cara, make another plan: abandon their shriveled existence for more promising prospects on the coast, where Cara can play small-town librarian-bachelorette and Kate can figure out what's up with that secretive Blake family from the beach.

Everyone is eerily captivated with Kate and her mother, and Cara is the first to figure out why when the man of her dreams arrives all dripping and devoted and closed-mouthed about what he intends. Kate is willing to go along with their subterfuge for a while, but eventually makes a charge for the water to learn what her mother is hiding. Gabe Blake is there waiting for her…and so is someone considerably less friendly. By the time Kate navigates her way home, everything will have changed for her—what she feels, what she wants, and what she'll risk to be with the man she loves.




Errin Stevens writes paranormal romantic suspense stories from her home in Minnesota. When not wrestling with unruly narrative – or reading literary and commercial fiction like a fiend – you'll find her poring over seed catalogues (winter) or gardening (the other three days of the year).

Sean is an aspiring game developer who's used his years of work on Youtube to excel at audiobook narration.


Lately I seem to be reading/listening to stories about mermaids and underwater life, which is not a complaint at all. To me, they are a bit difficult to write, compared to the normal YA stories since this is a stranger world that may not appeal to anyone. But "The Mer Chronicles" is up to a good start.
"Updrift" gives the reader a wonderful experience of this universe and the author has done such an amazing job portraying every aspect of this life and the sirens involvement in social activities and their set of rules and beliefs. And it definitely gives you that "I want more" feeling that pushes you towards the next book.
I must admit that I had a difficult start with the story, since the beginning is very slow. But with a little patience, I was pushed forward into such an amazing action and plot evolution!  Now, after finishing the book, I cannot say that it's a bad thing, since it helped me know more about the characters and their families. Gabe and Kate have a connection since childhood and quickly become best friends. Still, the amount of detail included in the first part was a bit too overwhelming.
However, the romance, the connection, the characters, their development and let's not miss the action are very much worth the while! I loved it all! The secrecy surrounding our main characters is what kept me through and the way the author built the intrigue around it was fantastic to say the least.
I enjoyed the narration as well. Sean Posvistak kept me engaged with his reading and acting. He managed to catch the suspense as well with how he built his pauses in the narration. There were very few times where I confused some of the voices he did, but that's ok with me.
All in all, a great book that gives us a world beyond our imagination and very well developed characters. Attraction, love that can withstand time and hearts that melt during the reading process 🙂   That's my kind of book! 4 Stars for now. Happy Reading/Listening!
I received this audiobook as part of my participation in a blog tour with Audiobookworm Promotions. The tour is being sponsored by Errin Stevens. The gifting of this audiobook did not affect my opinion of it.

The Mer Chronicles Giveaway: $20 Amazon Gift Card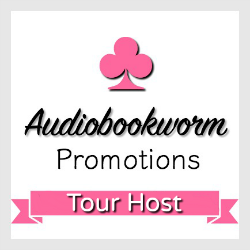 ➜Sign up as a host here