Author: Jennifer Alsever
Narrator: Moira Todd
Series: Trinity Forest Series, Book 1
Publisher: Sawatch Publishing
Released: Sep. 7, 2017
Genre: Young Adult, Paranormal


Author Jennifer Alsever delivers an addictive story ideal for fans of The Uglies, We Were Liars, and Before I Fall about a teen grieving over her parent's tragic death who becomes entangled with a mysterious forest teeming with urban legends of strange disappearances and witchcraft.

Ember Trouve used to be alive, driven to become a musician and on a path to college. That was before her parents died. One day, after venturing into the fabled Trinity Forest, she goes missing. Now, Ember must confront the truth behind her parents' death – or lose herself to the forest forever.

In this fresh and compelling novel, Jennifer Alsever creates a paranormal world of loss, mystery, love, and survival as Ember searches for escape – and a path back to herself. Ember Burning is the first installment of the three-book Trinity Forest series.



A teenager still lives inside author Jennifer Alsever. She spent two decades as a professional journalist, contributing to such publications as Fortune Magazine, the New York Times, Inc Magazine and the Wall Street Journal, before letting her imagination run wild in 2016. The result is Ember's story told in the three-book Trinity Forest Series, her first published fiction work.
When not absorbed in writing, Alsever enjoys a good hike, doing some yoga, hanging with her boys, some moguls on skis, a rigorous mountain bike ride or indulging in the simple pleasures of life. Her favorites: untouched snow, frozen chocolate chips, savasina on a yoga mat and yes, bowls of pan fried brussels sprouts. Jennifer is working on her upcoming novel, Psychic Monkeys, to be released in 2019.

Moira Todd is a Washington, DC-based actor. She originally hails from Mt. Hood, Oregon where the trees are always green, the mountain is always pointy, and the weather is usually rainy. It was there that she learned the secret arts of alpine skiing and whistling at the same time as you hum. While neither has proved useful in her theatre career, she remains hopeful. These days she spends most of her free time swimming, baking bread, and watching whale documentaries.

Yey! Another interesting series, with love, mystery and all the other stuff that makes the difference between great books (because all books are great, mainly because they are books… good logic, right?) and amazing ones. "Ember Burning" is so much more than a story about some missing teenagers in a forest, as it covers loss and dealing with loss. Around this theme, Jennifer Alsever has developed an interesting plot and great characters.
Ember has to deal with losing her parents. Her pain is so great and it now prevents her from having a normal social life. She has lost that beautiful spark, she feels she has no one. Her solution: escape, hide, run. She finds ways to get away from that heaviness with drugs and when this has bad consequences, she does the next best thing: hide in Trinity Forest, a place from which people have the tendency of not coming back. Our character knows that. Ember has spent hours and hours studying the missing cases of lost teenagers, continuing her mother's work. Her obsession brings her to the forest and the heaviness lifts, almost like magic. Strange things happen and she must figure them out, otherwise her loved ones will be in danger.
Although I liked the story a lot and I can't wait to get into the next book, I decided to decrease 1 star of my rating. The mystery surrounding the forest is so heavy that sometimes confused me. Also, something happens between her and one of the guys who provided the "happy pills" and I would have wanted it to be treated with more seriousness.
The narration was good as well, even if at times it was a bit (but just a bit) difficult to differentiate between the girls. Moira Todd has such a gentle and sweet voice! And she sings incredibly!!!
All in all, "Trinity Forest" starts off very good! The ending leaves you wanting the next one right NOW, so that's what I'm about to do 🙂 Happy reading/listening 🙂 Fell free to follow the blog tour, by checking the schedule below 🙂
I received these audiobooks as part of my participation in a blog tour with Audiobookworm Promotions. The tour is being sponsored by Jennifer Alsever. The gifting of these audiobooks did not affect my opinion of them.

BOOK ONE
Jun. 24th:
Jun. 25th:
Jun. 26th:
Jun. 27th:
Jun. 28th:
Jun. 29th:
Jun. 30th:
BOOK TWO
Jul. 1st:
Jul. 2nd:
Jul. 3rd:
Jul. 4th:
Jul. 5th:
Jul. 6th:
Jul. 7th: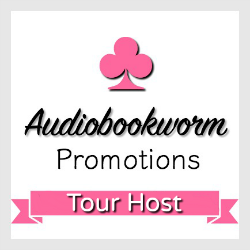 ➜Sign up as a host here