Author: C.A. Gray
Narrator: Melissa Williams
Series: The Liberty Box series, Book 1
Length: 6 hours 25 minutes
Publisher: Wanderlust Publishing
Genre: Young Adult, Science Fiction
Kate Brandeis has it all: a famous reporter at the age of 24, she's the face of the Republic of the Americas. She has a loving fiancée and all the success she could wish for. But when she learns of the death of a long-forgotten friend, her investigations unravel her perfect memories, forcing her to face the fact that she's been living a lie.

Jackson MacNamera, trained from a young age in the art of mind control, returns to the Republic for his mother's funeral. Within a few hours of his arrival, authorities collect Jackson and take him by force to a room ironically called The Liberty Box, where he must choose between surrendering his thoughts to the new Republic, or fleeing for his freedom.

Kate, bereaved and confused, finds her way to a cave community of refugees, where Jackson seems to offer her an escape from her grief. The two forge an uneasy bond, and in the process Jackson learns that Kate has some insight which may help the hunters in their attempt to free other citizens from the tyranny of the Potentate. Against the expressed wishes of the Council, the hunters plot a series of daring raids, attempting to prove that not only is freedom possible, but that the citizens are not too far gone to desire it. But with the odds so stacked against them, can the refugees succeed in their rescue missions right under the Potentate's nose?



By day, C.A. Gray is a Naturopathic Medical Doctor (NMD) with a primary care practice in Tucson, AZ, and she writes medical books under her real name (Dr. Lauren Deville). She lives with her husband, with whom she maintains a facetiously contentious movie review blog, and travels as often as they can get away. When not writing or seeing patients, she does yoga, drinks red wine while eating dark chocolate, and consumes audiobooks like there's no tomorrow!

Melissa lives with her family, including two dogs and a cat, in the foothills of the Rocky Mountains near Denver, Colorado.

After having a corporate job for most of her life, and as a self-proclaimed introvert, she decided to leave corporate America to work from home. Voice overs had always tugged at her heart as something she would like to explore, so she attended some classes and landed with a company that taught her how to break in to the industry.

Loving to read, she explored the fast growing world of audiobooks and fell in love with it. She has ten audiobooks under her belt and is currently working on the 11th. Understanding that she should always be learning how to improve her skills, she is currently working with Sean Pratt.

When not talking to herself in a padded room, she can be found walking her dog, singing or fishing the Arkansas River.

Yey! I've discovered a new author (shame on me for doing it so late)!  I liked this book so much as it is so close to what we are facing now. I liked all the concepts, I liked the intrigue, the politics, the heroes and the antagonists.
I am always curious to see how other imagine our future, especially good writers, that can integrate a story worth following. In this case, C.A. Gray develops a future in which society is decided by one person, a society in which people have the illusion of a good life, or believe they can take decisions willingly. Well, things are not always what they seem. In this case, things are not what they seem at all!
Years after the United States has been declared a Republic, no longer a Democracy, reporter Kate Brandeis begins to remember things she should not. The trigger: Death of her former childhood friend. Once her fiancée starts helping her, he has a mysterious accident and passes away too. Left with the realization that her world is not as good as the government wants its people to believe, Kate has to run and hide to save her own life. That's how she meets newcomer Jackson MacNamera – recently arrived in US for his mother's funeral. He also has to deal first hand with the government's manipulation but his mind is not as easy to break. They will both fight for what they believe – that's their only chance of surviving, of avenging the ones that had the courage to think.
The book has strong themes. It is a story not only for the soul, but also for the mind. Because while we are chasing the main characters, while we imagine their actions, we think about our own lives. I think the subject is quite sensitive and enlightening even. Mind control is deeply analyzed, being stronger "in the head" is what sets these characters apart.  We see them evolve, we see them developing strategies, learning to be one step ahead of the government. But is it enough? I tell you, I cannot wait to start book 2.
Unfortunately, I must admit that the beginning of this book was not the greatest. Things happen too fast and it seemed a little forced. As for the narration, I liked Melissa Williams' interpretation, but her voice acting is not as developed as I would have liked.
Even with these negative points, I cannot give "Liberty Box" less than 3.5 stars (rounded to 4). It is a story that kept me focused until the end and made me want to read the next books in the series, which I am sure, will have a higher rating. Hope you'll give it a try 🙂
Until nex time, feel free to check the other stops in this blog tour, as this is only Day 2! Keep your eyes out for what the other bloggers have to say about the series 🙂
I received this audiobook as part of my participation in a blog tour with Audiobookworm Promotions. The tour is being sponsored by C.A. Gray. The gifting of this audiobook did not affect my opinion of it.

The Liberty Box Series Giveaway: $10 Amazon Gift Card

BOOK ONE
Jul. 8th:
Dab of Darkness Audiobook Reviews
Jul. 9th:
Jul. 10th:
Jul. 11th:
Jul. 12th:
Jul. 13th:
Jul. 14th:
BOOK TWO
Jul. 15th:
Dab of Darkness Audiobook Reviews
Jul. 16th:
Jul. 17th:
Jul. 18th:
Jul. 19th:
Jul. 20th:
Jul. 21st:
BOOK THREE
Jul. 22nd:
Dab of Darkness Audiobook Reviews
Jul. 23rd:
Jul. 24th:
Jul. 25th:
Jul. 26th:
Jul. 27th:
Jul. 28th: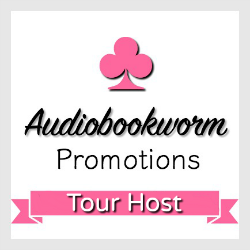 ➜Sign up as a host here