Author: JT Lawrence
Narrator: Roshina Ratnam
Length: 8 hours 49 minute
Publisher: Author's Republic⎮2017
Genre: Science Fiction
Series: When Tomorrow Calls, Book 1
Release date: Aug. 7, 2017
In tomorrow's world prowls a creative and ruthlessly efficient assassin who won't stop until Kirsten is killed.

A troubled woman approaches Kirsten with a warning and a key and is later found dead. Was the woman just another victim of the Suicide Contagion, or is there something more sinister at play? The key leads Kirsten to the Doomsday Vault and a hit list of seven people – and her barcode is on it.

Edgy and original, Why You Were Taken is a dark cinematic thriller that will keep you guessing till the last.

Grab the first audiobook in the futuristic suspense series, When Tomorrow Calls, now.


JT Lawrence is a bestselling Amazon author, playwright and bookdealer based in Parkview, Johannesburg. She is the mother of two small boys and a baby girl, and lives in a house with a red front door.

Roshina Ratnam is actress, puppeteer, voice artist and lover of dumplings.
She has performed around the world mostly notably playing Opelila in Janet Suzman's production of Hamlet which toured to the Royal Shakespeare Company. Other highlights include For Colored Girls which received a Fleur Du Cap. Her puppetry work has seen her work with Handspring Puppet Company as well as the award winning political satire TV series ZAnews. She is currently a producer and performer with Pillow Fort Theatre which creates art focused for children aged 18 months to 4 years. Her work as a voice artist has seen her record several books and radio commercials over the years. Roshina Ratnam is a graduate of UCT drama school.

What a great 1st book! I loved every minute of it and I am now looking forward to follow up with book 2.
"Why You Were Taken" contains twist after twist, action, suspense, a little bit of love here and there and it is written so that the reader is immediately mesmerized by this new world. We have technology at its best, but still, population is decreasing. How can that happen? What's actually going on? Keke and Kristen are going to find out somehow. Everything starts from an innocent investigation, but soon Keke will stumble upon a conspiracy far beyond her imagination. Are these organizations looking to do good in the world or not? Well, usually they follow their own interest, but the plot offers so much more.
The main characters are so well created. They are strong women, with a moral compass that is hard to ignore. They want to uncover the truth, as their job requests, but not only for that. Loves may be at stake here. And come on, if someone handed you a list of 7 people that would die soon, you'd do something for sure. By the way, your name is in there too! Because that's how this starts. We have friendships, we have desires waiting to be fulfilled, we have desire to live and be happy. These are just some of the items that drive our main characters.
The author has created a unique world and somehow made me see that some things can be saved only through our inner strength, not technology necessary. The narration is fantastic to say the least. I had no problem differentiating between the characters and I appreciated the accents the narrator used.
All in all, this is definitely a 5 star read and I look forward to see more of Keke and co. Loved it, recommend it!
If my words have not convinced you, follow the blog tour using the schedule below to see more of what other bloggers think 🙂
I received this audiobook as part of my participation in a blog tour with Audiobookworm Promotions. The tour is being sponsored by JT Lawrence. The gifting of this audiobook did not affect my opinion of it.

When Tomorrow Calls Giveaway: Audiobook & eBook Set

PREQUEL
Aug. 7th:
Dab of Darkness Audiobook Reviews
Aug. 8th:
Aug. 9th:
Aug. 10th:
Aug. 11th:
Aug. 12th:
Carolyn M. Walker, Author of Thrilling Fiction
Aug. 13th:
BOOK ONE
Aug. 14th:
Dab of Darkness Audiobook Reviews
Aug. 15th:
Aug. 16th:
Aug. 17th:
Aug. 18th:
Aug. 19th:
Aug. 20th:
Carolyn M. Walker, Author of Thrilling Fiction
BOOK TWO
Aug. 21st:
Dab of Darkness Audiobook Reviews
Aug. 22nd:
Aug. 23rd:
Aug. 24th:
Aug. 25th:
Aug. 26th:
Aug. 27th:
Carolyn M. Walker, Author of Thrilling Fiction
BOOK THREE
Aug. 28th:
Dab of Darkness Audiobook Reviews
Aug. 29th:
Aug. 30th:
Sep. 1st:
Sep. 2nd:
Carolyn M. Walker, Author of Thrilling Fiction
Sep. 3rd: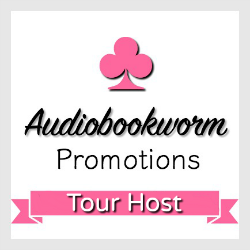 ➜Sign up as a host here