Author: Gail Vida Hamburg
Narrator: Colleen MacMahon
Length: 11 hours and 30 minutes
Publisher: Mirare Press
Released: Jun. 25, 2018
Genre: Historical Fiction


Liberty Landing – a 2016 Finalist for the PEN/Bellwether Prize for Socially Engaged Fiction – narrates the American experience of the 21st century through the lives of a polycultural cast of natives, immigrants, and refugees in Azyl Park, a town in the Midwest.

After Angeline Lalande, a journalist and historian, unearths the real meaning of the name Azyl, conferred on the town in the 1800s by immigrant-hating politicians, the town elders begin the act of renaming it. During the course of the renaming, we meet the intriguing denizens of the town -survivors, strugglers, and strivers of every race and nationality, and see the intersection of their lives and the ways they find home, heaven, and haven in each other. We learn about the singular journeys that brought them to Azyl Park, a place that both transforms them and is transformed by them.

The larger story of the American experiment is told through the personal story of Alexander Hamilton, the essential immigrant among the Founding Fathers, as Angeline writes a book about him. By the end of the novel, after Azyl Park is renamed, each of the characters has lost or found something essential.

Liberty Landing is about the personal and the political, family and loss, memory and migration, finding new love and a new home, and history and the American experiment. Seminal moments of the American experience figure in this literary and historical fiction. Inspired by John Dos Passos' USA Trilogy about early 20th century Americans, Liberty Landing is a sweeping, lush, layered saga set in a vibrant community with a diverse, international cast of characters, people marked by neuroses, flaws, secrets, unspeakable pasts, humor, warmth, vulnerability, and humanity. Liberty Landing is Gail Vida Hamburg's love letter to the American experiment – the first in a trilogy.




Gail Vida Hamburg is an award-winning American journalist, author, and museum storyist. She is the author of The Edge of the World (Mirare Press, 2007), a novel about the impact of American foreign policy on individual lives. A nominee for the 2008 James Fenimore Cooper Prize, it is a frequent text in undergraduate post- colonial studies, war studies, and creative writing programs. Born in Malaysia, she spent her teens and twenties in England before migrating to the United States. She holds a Master of Fine Arts in Literature and Creative Writing from Bennington Writers Seminars at Bennington College, Vermont. Liberty Landing, a finalist for the 2016 PEN/Bellwether Prize for Socially Engaged Fiction, is the first volume in her trilogy about the American Experience and her love letter to the great American Experiment. She lives in Chicago—the setting for Liberty Landing

Colleen MacMahon is an actress, writer and painter. She trained at Arts Educational School (Hertfordshire) and subsequently qualified as a Speech and Drama teacher, following which she has combined her performing career with directing, writing and mentoring. She has won awards for her short story writing and is currently working on her debut novel. Colleen does much of her Narration and Voiceover work from her home studio in the beautiful south west of England, where she lives with her partner and their two dogs.

This was such an interesting book, although I expected something different, more focused on history than on the characters. But by the end of the story, I understood the idea and how they all fit with the plot.
The blurb focuses on the town Azyl and what its name means, how it came to be and so on. But in reality, the book is more about finding out who you are, so you can understand where you belong and to where you're heading. That's the most beautiful aspect and what I think the author tried to capture with "Liberty Landing". I love history and I am always inclined to find out more of what happens, or what happened around me, so this book is perfect for me.
We have shifts between past and present, we have different characters, most of them outside US and one who's lost his memory. This is combination reflects well on the idea that we have no clue where we are and that always there is a place for us somewhere. I am insisting more on this aspect because this is what grabbed my attention. I was so curious to see how these people will find their place.
The narration was good as well. Colleen MacMahon has a wonderful and very pleasant voice. I only wished she could have insisted more on the accents. But I feel she gave the right pace to the story and for me, the audio was very useful.
All in all, I cannot give less than 4 stars to a book that made me think, made me ask myself questions. Even if at times I lost a bit track of the action and I got lost among the stories these characters have, I did enjoy my time with it.
I received this audiobook as part of my participation in a blog tour with Audiobookworm Promotions. The tour is being sponsored by Gail Vida Hamburg. The gifting of this audiobook did not affect my opinion of it.

Liberty Landing Giveaway: $25 Amazon Gift Card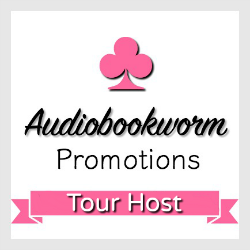 ➜Sign up as a host here