Author: Kathryn Guare
Narrator: Wayne Farrell
Length: 10 hours and 26 minutes
Publisher: Kathryn Guare
Series: The Virtuosic Spy, Book 2
Released: Feb. 20, 2018
Genre: Romantic Suspense


Those who love romantic suspense and thrillers with heart have found their new literary crush.

An Irishman on the run. He's left a lot of things behind him…but they're not far enough back.

Conor McBride has lost everything, and if he can't find a way to disappear in a hurry, the next thing he loses could be his life. Running from enemies he's never met and haunted by his own destructive actions, Conor needs a refuge secure enough to hold his secrets. A farmhouse inn tucked amidst the green mountains of Vermont seems ideal, but when his past catches up with him, Conor discovers the beautiful young innkeeper has secrets of her own, and hers are more likely to get them both killed.



Author of the award-winning Conor McBride Series, Kathryn Guare's character-driven novels are all somewhere on the spectrum between romance and suspense, and some are even perfectly balanced between the two. She has a passion for exploring diverse cultures and cuisine, Classical music and all things Celtic, and has a habit of mixing these into her stories along with other topics and enthusiasms that capture her interest. Formerly, as an executive with a global health advocacy organization, she traveled extensively throughout the world. Currently, as a native Vermonter, she hates to leave home during foliage season.

Internationally acclaimed voice actor Wayne Farrell began his professional career at The National Theatre of Ireland, where he met the legendary Irish seanachai Eamon Kelly and became fascinated with the art of storytelling. Using skills learned during this time, Farrell has worked extensively in both documentary and audiobook narration and is widely admired for the rich clarity and versatility of his voice. His credits include award-winning authors such as Donal Ryan, whose debut novel The Spinning Heart won The Guardian's First Book Award as well as Irish Book of the Year; and New York Times and USA Today bestsellers such as Morgan Rice, author of the fantasy epic The Sorcerer's Ring.

Well, well wel… Book 2 of "The Virtuosic Spy Series" is here in audio format. And it's such a great audiobook! I loved it and I loved the plot and the new story the author is presenting us. I had my expectations high and that's why I may have been a little harsh when giving this one 4 out of 5 stars, but my reasons are justifiable, in my opinion.
We meet here Conor and Kate, who find each other when they needed someone the most. She misses a time when she could create beautiful paintings in her amazing color combinations and he needed a safe place for a while. They seem to be balancing each other well. But life has other plans. There is no rest for the spies, but enough room for more secrets.
I love how each character, be it main or secondary, has a story that is impossible not to relate to.  Most importantly, I appreciated how we see their personalities combined, in an effort to shed light on the things that happen around them. The plot was constructed perfectly and the action is explosive and full of surprises.
The reason for decreasing my one star is because I was not a fan of Kate's. She sometimes acted as a spoiled brat and made a mess out of things. She plays her part well, but she seems to be acting based on her own thought, rather than deciding together with Conor. I don't know, something just does not stand well to me with her.
The narration was beautiful and I can see the efforts Wayne Farrell has put into interpreting each character. His accent is amazing and his voice acting was full of emotions and could easily be distinguished between the several characters.
All in all, I would suggest reading book 1 before "The Secret Chord", as there is a lot of information included in "Deceptive Cadance" that will make the story more understandable and the characters much more appealing. I liked the multiple location scenes, the description, the tension, the writing in gerenal! 4 out of 5 stars J Enjoy!
I received this audiobook as part of my participation in a blog tour with Audiobookworm Promotions. The tour is being sponsored by Kathryn Guare. The gifting of this audiobook did not affect my opinion of it.


The Secret Chord Giveaway: ZEUS Bluetooth Headphones Wireless

Aug. 23rd:
Dab of Darkness Audiobook Reviews
Aug. 24th:
Aug. 25th:
Aug. 26th:
Aug. 27th:
Aug. 28th:
Aug. 29th: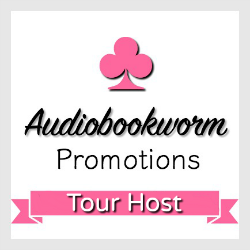 ➜Sign up as a host here