Author: Lilly Atlas
Narrators: Noah Michael Levine and Erin deWard
Series: Hell's Handlers, Book One
Length: 8 hours 24 minutes
Publisher: Lilly Atlas Books LLC
Released: Jul. 23, 2018
Genre: MC Romance


Toni's no stranger to making mistakes. She has experienced firsthand how walking down the wrong path can send life spiraling out of control. Fortunately, she had someone to drag her from the gutter and help set her on the right track. As penance for the poor choices of her past, she pledges to suppress her baser desires and focus on finding a steady, dependable man, even if that means embracing a boring lifestyle.

The last thing anyone would call Zach is dull. As Enforcer for the Hell's Handlers MC, he embodies the outlaw lifestyle. When Toni moves in next door, Zach can't resist the possibility of a quick, hot fling. But he soon discovers she's not the easy conquest he's used to.

While Zach works to convince Toni she belongs in his bed, a tenuous relationship with a local gang disintegrates and threatens his MC family. Zach's world is turned upside down when he's unable to keep the danger from touching his club.

As Toni fights to resist Zach's pull, her own peace is shattered by demons from her past. With enemies both old and new barreling down, she throws out her rules and turns to Zach for aid. Soon, she finds herself firmly entrenched in Zach's dangerous world.

Is it possible for her to curb her desires, or is she doomed to repeat the mistakes of her past?

None of it will matter if Zach can't keep their enemies at bay.



Lilly Atlas is the contemporary romance author of the award-nominated No Prisoners MC series. She's a proud Navy wife, mother of two spunky girls, and one crazy pug. Every time Lilly downloads a new EBook, she expects her Kindle to tell her it's exhausted and beg for some rest. Thankfully that hasn't happened yet, so she can often be found absorbed in a good book.

Noah Michael Levine is an Audie Award-Winning audiobook narrator and producer living in beautiful Nyack, NY. His over 180 titles include almost every genre. While he loves his work completely – and collaborating with all kinds of different authors, he does not love writing about himself in the third person.

Erin deWard is an Audie Award-Winning narrator with over sixty titles in genres ranging from Spirituality to Young Adult to Adult Contemporary and others. She's worked on stage, screen, and behind the mic for over thirty years. She is beyond grateful to have come to this place in her life and thanks all of the people and organizations that sped her on her way.

In addition to her love of acting, Erin is passionate about her work as an audio describer, translating visual images in media and performance into aural pictures for people who have low or no vision. She studies and performs Shakespearean text and can most frequently be seen cavorting onstage with The Strange Bedfellows, the adult troupe of the Children's Shakespeare Theatre of New York.

Erin lives in lovely Nyack on Hudson, New York with her husband, daughter, sometimes her college-aged son, and two ill-behaved but loveable dogs, Annie and Benevolio.

Proud member of SAG/AFTRA

As any book by Lilly Atlas, this is a 5 star read for me. Why ? Because her books have the perfect combination for my taste. She has characters with baggage and knows how to integrate it into the sorry. They are strong, they are willing to overcome any obstacle and do not act childish at all.
Even from the first chapters, I was so anxious to know what Toni's story is and how will she manage to accept Zach's position as the club Enforcer. Ok, a little bit of details about the plot: Toni returns to her hometown after her parents' sudden death. She is now the owner of the down diner and makes it available to bikers. Her parents would have never agreed to such a decision and her upbringing was very strict. Still, now she has a different approach, even if she has no intention of staying. She has a boyfriend who's waiting for her, a job she loves and she has no intention of managing the place for long.
Seeing the new girl in town, Zach is immediately attracted to her and he wants to make her his, even if for the sake of a quick fling. None of them ever expected to become more. Club business interferes with their relationship and somehow, Toni becomes key.
 Out of the two main characters, I loved Zach better. His dedication towards his club, his qualms of conscience are so intense and genuine. I felt like he was the soul and the main driver of the story. Don't get me wrong, I liked Toni as well. I just thing that she could have used a little more touch here and there. She becomes a completely different person when she is back in town and her boyfriend is an even bigger surprise. I don't know why this whole thing didn't sit well with me.
As for the narration, there are few words to say. I have praised already the duo Noah Michael Levine and Erin deWard because they do such a great job together. The alternating reading, the emotions they share through their voices are amazing to say the least! Oh, and Noah has such a dangerous voice, perfect for a biker (I hope he's not reading this!) 🙂
Believe me, a more thorough reviewer would probably give this book a 4 star rating maybe. But there are things which compensate any other negative aspect. The fact that this is a book that grips you from the very beginning, the MC guys are amazing, the angst, the emotions, the desire, the passion, the balance between said passion and the action, all these are exceptional. Oh, and I am a Lilly Atlas fan.
The promise for what's to come blew my mind. "Zach"'s ending is a promise for a much bigger story. I am so excited to read about the other MC members and "Maverick" will be fantastic to say the least! I cannot wait to get my hands on a copy. I haven't read the blurb yet and I am so hyped for it! Until my next review, happy reading!
P.S. : I have so many more things to say about this book, I probably need another article!
I received this audiobook as part of my participation in a blog tour with Audiobookworm Promotions. The tour is being sponsored by Lilly Atlas. The gifting of this audiobook did not affect my opinion of it.

Zach Giveaway: $25 Amazon Gift Card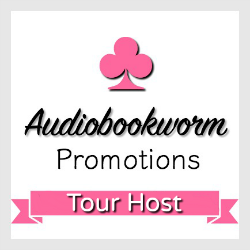 ➜Sign up as a host here