Author: Stella St. Claire
Narrator: Machelle Williams
Length: 5 hours and 6 minutes
Series: Happy Tails Dog Walking Mysteries, Book 1
Publisher: Relay Publishing
Released: Jan. 4, 2018
Genre: Cozy Mystery


Some people would kill for coffee….

Olivia Rickard would kill to keep everything just the way it is. She's got a gorgeous boyfriend who loves her, a supportive sister to lean on, and a dog walking business that's briskly barking away. But just as she's getting comfortable, her sister suddenly wants to buy an entire brownstone with her, and her boyfriend looks like he's going to pop the question at every opportunity. Changing the status quo has always been disastrous for Olivia, and now everything is changing at once….

What Olivia needs is a distraction, and she's found one in stumbling upon Yvette Dunn dead in her coffee food truck – drowned in a vat of fresh coffee. Olivia starts out as an unlucky bystander to the crime, but she's forced to dig in deeper when it looks like her sister could be involved in Yvette's death.


Olivia is running out of time in regards to the mystery, the mortgage, and the marriage. She's going to have to solve all three problems – and quick – or face a future most foul.



Stella lives and breathes cozy mysteries! With her head always buried inside these books, it's no wonder that she would put pen to paper to bring her own cozy mysteries to life. The words flew onto the page, and she's already teeming with ideas for the next cozy mystery series.
With her trusted canine by her side, it seemed only natural to be inspired by her beautiful beagle Doogle and the many hours they spent walking through scenic New England villages. When Stella's not reading books, she's off on road trips, exploring every nook and cranny in neighboring towns, seeking inspiration for her next book.
She's keen to see what her fellow cozy critics think of her new cozy mystery so please leave a review and share your thoughts with Stella.

As an audiobook narrator with 23 years of experience moving audiences with her voice through corporate facilitation and public speaking, Machelle knows how to connect with the intent of the author to bring their vision to life. Her compelling yet casual voice draws the listener close, transporting them deep into the story and keeping them hanging on every word with full attention and anticipation.

Machelle's voice is nuanced and delivers reads that range from soft and soothing to dramatic and smoky. She specializes in Mysteries & Thrillers, but her Bespoke repertoire also includes Non-Fiction, Religious, Urban and Noire.

Machelle is based in Northern Virginia with her two Boston Terriers, Daphne and Lilah, and her fully equipped studio from which she provides quick turn-around of professional quality recordings.

When you need a narrator to take your listener to the edge of their seat and their breath away – trust the telling to Machelle.

For me, this book was like a break from my usual romance books, a beautiful, welcomed break. Although this is not that far from the tree, "Barking Up The Wrong Bakery" has a good mystery, a (sometimes nosy) main character, a bit of romance and a bunch of cute dogs. It's that type of story that makes you feel comfortable.
Olivia finds one of the owners of her favorite coffee shop dead when arriving for her usual dose of caffeine. Being a fan of stories involving detectives, she takes the opportunity to "practice" what her favorite investigator "thought" her in the many books she listened to. And also because she is nosy and can't stay away, especially when told not to get involved. Still, it's impossible not to find something in her for every woman or girl that reads this book.
She is clumsy, but smart, not willing to settle down, yet liking her own routine with waking up to read a few pages in the middle of the night. She knows she has the best boyfriend ever, but the thought of spending her entire life with the guy scares her. Andrew really has the biggest patience ever.  He accepts her with all her flaws and is willing to set the pace Olivia needs and wants. They are lovely together!
The mystery is well constructed. I had no clue who the killer was, but to be honest, I was more interested in the romance aspect and I was distracted by Olivia's personality… and the dogs! The town atmosphere is very realistic as well. We have the town gossip, the envy and policeman who is so surprised he actually has real police job to do. It was funny and interesting at the same time.
The narration was not bad, but I wanted more voice acting. The audio quality was ok, Machelle Williams is doing a great job expressing emotions, but sometimes is difficult to differentiate between the characters, when it comes to listening to them speak. The book is written in such a way that is not possible to confuse them however.
All in all, this book gave me a nice feeling. The small town life, the relatable main character, a very nice and simple romance, a good mystery – what's not to like? 4.5 stars J
I received this audiobook as part of my participation in a blog tour with Audiobookworm Promotions. The tour is being sponsored by Stella St. Claire. The gifting of this audiobook did not affect my opinion of it.

Prize: $5 Amazon Gift Card
Barking up the Wrong Bakery Giveaway: $5 Amazon Gift Card

Dec. 2nd:
Dec. 3rd:
Dec. 4th:
Dec. 5th:
Dec. 6th:
Dec. 7th:
Dec. 8th: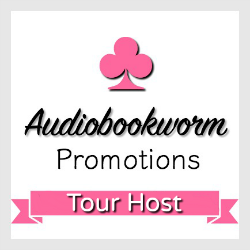 ➜Sign up as a host here