Author: William Todd
Narrator: Ben Werling
Length: 2 hours 38 muntes
Publisher: William Todd
Released: Oct. 16, 2018
Genre: Mystery


While on a well-deserved holiday in the Lake District to get away from the toils and troubles of London, Holmes and Watson find no respite. As soon as they exit the train, they hear news of a grisly murder making its way around the murmuring commuters. A local aristocrat, Mr. Darcy, has been found missing his head!

And that very night, the wealthy widow finds a stranger in her home who, upon seeing her, abandons his plans and quickly leaves. She believes the intruder to be the murderer of her husband who is now after a large sum of cash she keeps in the house safe.

Unsure if the would-be thief is the murderer or an opportunistic burglar, Holmes devises a plan to catch the burglar, all the while investigating the murder of Mr. Darcy. Follow Holmes, Watson, and the local constable Mr. Wickham as they untangle the mystery surrounding a Murder in Keswick.



I have been writing online since the early 2000's, primarily writing horror stories in the style of Poe and Lovecraft. I was the 2nd most popular author on the website storiesbyemail.com for two years before moving on. I had my first book, a Victorian era horror compilation called Bumps in the Night, published by Mystic Moon Press just a week before they closed their website and never saw my hard work pay off. Afterwards I took publishing into my own hands, became an Indie author and haven't looked back. My first self-published book was Dead of Night, another compilation of Victorian horror stories, published September 2016 by Createspace and on Kindle by KDP. After its publication I left my comfort zone for mystery and wrote a short story about Sherlock Holmes in the Conan Doyle style. I loved it so much I then did a longer story A Reflection of Evil, both published in 2017 through Createspace and KDP. I have just release Beyond the Gossamer Veil, another compilation of both Victorian and modern supernatural/horror stories and am in the beginning stages of my third Sherlock Holmes installment.
Ben is an award winning actor and voice over professional, who has performed all across the United States. From Shakespeare to Neil Simon, he has displayed a versatility and diversity in the characters and dialects he has portrayed. Ben received the Joseph Jefferson Award for Leading Actor as abusive talk show host Barry Champlain in Eric Bogosian's TALK RADIO, and was nominated for Best Supporting Actor as Prosecutor Villeforte in Alexander Dumas' THE COUNT OF MONTE CRISTO, also in Chicago. He has worked with an extensive list of theaters in Chicago over the last three decades: Steppenwolf, Bailiwick, Famous Door, Next, A Red Orchid, Raven Theater, First Folio, Writer's Theater, Buffalo Theater Ensemble, as well as Utah Shakespeare Festival, Illinois Shakespeare Festival, Indiana Repertory, Madison Repertory, and Allenberry Playhouse in Boiling Springs, Pennsylvania. He is an Ensemble member of Shattered Globe Theater in Chicago. For almost a decade he was the voice of the Adler Planetarium, hosting live shows and pointing out the stars, planets and constellations on the big dome. Ben has an eponymous weekly vlog on YouTube, that he films, produces, edits and narrates. He lives in Chicago with his wife Amy, two dogs and three cats.

2 hours of mystery solving with the amazing Sherlock Homes. That's a fantastic way to spend the time, especially in a grey evening. William Todd does a great job of "refreshing" the stories and the murder case he creates is very interesting and very fitting for a detective of Sherlock's caliber.
The short story managed to meet almost all my expectations. We have a very interesting murder case that interrupts Shelock and Watson's attempt at a vacation: a decapitated body, with no traces of blood in a community where the biggest crime is theft at the local fare. So imagine the joy on the local constable when finding out that the great detective Homes and Doctor Watson are willing to help.
The main traits of Homes are well captured; we have a veritable detective, as we already know him from the original stories. Same goes for Doctor Watson. What I would have wanted is a bit more of those fun interactions between the two. I wanted to smile more often at their exchange.
Whenever I hear about Sherlock Homes, it's impossible not to think about the series with Benedict Cumberbatch. For me, it's not possible to have a better Sherlock. So I associated the character attitude and narration to what I saw in those episodes. That's why the narration did not fulfill my expectations. Ben Werling does a great job, his voice is clear and easy to understand. But I would have preferred a little more disguise in his voice, especially when it comes to the female characters. Also, maybe a little more of that beautiful English accent would have been welcomed.
I take a special note to discuss the audio production, which was spectacular. There are background sounds and music that help the reader feel the atmosphere of the time, or the scene that is described. We can hear train sounds, wood burning, things crashing, the "Sherlock"music. I loved it so so much! Big points for that!
Specifically because this is an audiobook, I wanted more from the narration, so my 4 stars are in relation to that. Otherwise, I loved the sorry, I loved the audio production with those additional effects. I do encourage you to give it a try. It's an interesting experience!
I received this audiobook as part of my participation in a blog tour with Audiobookworm Promotions. The tour is being sponsored by William Todd. The gifting of this audiobook did not affect my opinion of it.

Prize: $20 PayPal Cash
Murder in Keswick Giveaway: $20 PayPal Cash

Dec. 4th:
Dec. 5th:
Dec. 6th:
Dec. 7th:
Dec. 8th:
Dec. 9th:
Dec. 10th: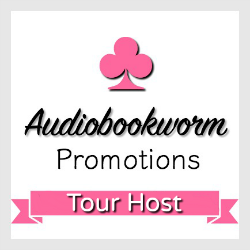 ➜Sign up as a host here