Author: Brett Matthew Williams
Narrator: Brett Matthew Williams
Length: 21 hours and 26 minutes
Series: Time Is Relative, Book 2
Publisher: Paradise City Publications
Released: Jun. 23, 2017
Genre: Fantasy; Historical Travel


The second chapter in the Time is Relative series continues the origin story of the mythical figure Father Time (Rolland Wright) as he grows from boy to man. After escaping imprisonment, Rolland is due to begin his training at the prestigious Academy of Light. While learning to control his extraordinary abilities, Rolland must also navigate more ordinary teenage pursuits – first love, fitting in, and finding himself.

Meanwhile, the Knights of Time are scattered throughout the Time Stream. Judah & Joan Raines appear on 1930's Lae Island to locate the infamous pilot, Amelia Earhart. Yet unbeknownst to them, a familiar face is tracking their every movement, searching for a piece to the mysterious Project Dreamcoat. On the hunt for a missing comrade, the remaining Knights hurtle toward 1803 Haiti in the midst of a violent revolution. As these events unfold, Edward Vilthe stalks the shadows, slowly implementing his master plan.


Brett grew up with a passion for both film and history. He began his career fresh out of high school as a Production Assistant & football player on NBC Universal's television series Friday Night Lights (of which he can be seen in the first two seasons as a member of the championship team – Go Panthers!). He quickly moved on to serve as an Original Series intern with the USA Network in Studio City, California. Following work on shows like Monk, Psych, and Burn Notice, Brett returned home to Texas to continue his education, graduating with his degree in History from Texas State University. A proud Master Freemason, Brett thoroughly enjoys fantasy fiction, Star Trek TNG, running, baseball, Shakespeare, and spending time with his wife, two kids & their furry friends.

The conclusion of the story is epic, as it was expected! If in book 1 we were introduced to the world and we see a teenager only learning about his family and abilities, "Time Is Relative for Wavering Loyalties" is a much more complex story. Everything is more developed, starting with the main character and continuing with the plot development.
We are already used to the world and to each character's abilities. But this doesn't mean that this book would not surprise you. I went in looking forward to see how Rolland will react when confronted with normal teenage stuff but also warrior related activities. I liked him in Book 1 and I like him still. He is more to my liking now that he is more familiarized with the environment.
The other Knights of Time have their own adventure. But the enemy never sleeps and he is waiting for the right moment to attack. I liked Vilth quite a lot, especially his planning and plotting.
The author does a great job narrating the story and he does a great job with the voice acting. I felt the emotions and even the connection between the author and his characters. That's a lovely feeling!
There is a lot going on in this book, a lot of action and that may feel overwhelming. But for me, it was perfect! I loved every page and I ended up loving the world that seemed so complicated in book 1. 5 stars 🙂 enjoy!
P.s.: Again, I apologies to Jess and the author for the super delay in my review. I wish I could have been able to avoid it. But I do invite you to go through the other hosts' articles as there are a lot more things to find out 🙂
I received this audiobook as part of my participation in a blog tour with Audiobookworm Promotions. The tour is being sponsored by Brett Matthew Williams. The gifting of this audiobook did not affect my opinion of it.

Prize: $50 Amazon Gift Card
Time Is Relative Series Giveaway: $50 Amazon Gift Card

BOOK ONE
Nov. 29th:
Nov. 30th:
Dec. 1st:
Dec. 2nd:
Dec. 3rd:
Dec. 4th:
Dec. 5th:
BOOK TWO
Dec. 6th:
Dec. 7th:
Dec. 8th:
Dec. 9th:
Dec. 10th:
Dec. 11th:
Dec. 12th: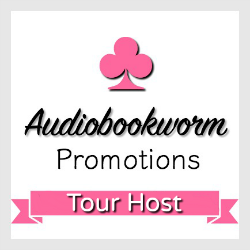 ➜Sign up as a host here