Author: Taylor Haiden
Narrator: Hugh Bradley
Series: The Werewolf M.D. Series, Book 1
Publisher: Brian S. Ference
Released: Jan. 23, 2019
Genre: Paranormal Romance


His medical miracles are too good to be true.

This aloof doctor's methods are less than conventional. What better way to save a patient, than by biting them?

Fresh out of nursing school, Isabella struggles to save her dying patients while vying for the attentions of a doctor who is too hot to handle.

Will Isabella fall for the charm of this hard-body physician with a kind smile and the "Miracle Doctor" reputation?

Can anything stop the double-edged virus as it courses through the small hospital in Breaux Bridge, Louisiana?

Contains bonus content, high-heat scenes and action-based violence.




TAYLOR HAIDEN has three beautiful children and an amazingly supportive spouse and lives with them in Arizona. Tylor's days are spent enjoying the breathtaking blue skies and pink sunsets while writing a variety of genres. When not writing, Taylor enjoys traveling to new places, tasting new and exciting foods, binging on Netflix, and experiencing everything that life has to offer from barbecues to scuba diving. Taylor is author of the Werewolf M.D. series with more in the works.

Audiobook narrator Hugh Bradley brings his distinctive voice to titles ranging from romance to history.
Hugh brings characters to life with a distinct voice, with a deep understanding of the character and their motivation. Mr. Bradley doesn't just tell us the story, he brings us with him on the journey.
From Hugh: "I'm a classically trained actor, and have been on Broadway and toured all over the world in everything from musicals to Shakespearean productions. I still perform on stage from time to time, but most of the time these days I stick to recording, and producing and directing for the stage."
Yes, paranormal romance – I was missing that actually – with a shape shifter. I actually do like these books and I like that forever mating and all these things we all Romance Lovers are already used to. This book comes with something that looks fresh but also overlooks some of the items I personally like.
Let's take them one by one. Isabella comes to Breaux Bridge, Louisiana looking to put to good use her experience as a nurse and hopes to learn as much as possible from the doctor in town who seems to perform miracles. Little did she expect to be surrounded by so much impossible. Luckily, the good doctor is smart, handsome and so much more. The bond between them happens mostly because she just can't stay away – even if warned. When a local pack seem to want more, things get crazier and crazier.
I liked the idea of using one's abilities for good and as well Isabella's persistence. She wants to understand how Doctor Roman performs his healing. When things heat up, she never loses faith. Roman is strong and knows to stand his ground. His mature character is more than visible. The romance between the two starts pretty well, but evolves pretty fast.
And time to mention some items that I did not enjoy that much. Starting with the basics, I do not like the cover – I apologize as well to the young man (probably same age as mine), he is good looking, but I would have expected something different. I missed the fated mate trope, it would have fitted perfectly (I am a fan of tropes, if done properly and in this case I think it could have been very easily included and could have justified how fast these two fall in love). Lastly, I would like to mention that I did not particularly enjoy the narration. I did not dislike it, but the difference between Isabella and Roman was too little when it came to voice acting. Other than that, not many complains.
All in all, I was left wishing to know more of the story and that is a great thing. I cannot wait to start with book two and see what else happens next. We are left with a good cliffhanger so beware! Happy reading and stick around to see more. 3.5 stars for now.
Also, check out my other fellow bloggers' posts from this tour to find out many more fun facts and also their opinion about the book.

Prize: Google Home Mini & paperback copy of Werewolf M.D.
The Werewolf M.D. Series Giveaway: Google Home Mini & Werewolf M.D. paperback

BOOK ONE
Feb. 24th:
Feb. 25th:
Feb. 26th:
Feb. 27th:
Feb. 28th:
Mar. 1st:
Mar. 2nd:
BOOK TWO
Mar. 3rd:
Mar. 4th:
Mar. 5th:
Mar. 6th:
Mar. 7th:
Mar. 8th:
Mar. 9th: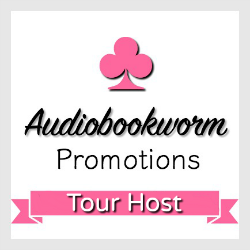 ➜Sign up as a host here