Author: Larry N. Martin
Narrator: Jeffrey Kafer
Length: 8 hours 56 minutes
Publisher: Tantor Audio
Released: Sep. 9, 2018
Genre: Military Science Fiction


Star Force pilot and hero Wyatt McCoy left his medals and career behind after the Rim Wars, disillusioned and bitter when he learns the truths behind the conflict. He takes his converted gunship, the Nellie B, and heads to the Near Fringe, salvaging derelict ships and abandoned stations and mining colonies.

Dr. Beth Parker is a space archaeologist, documenting the history of planetary expansion and colonization for Kalok Enterprises and the Interplanetary Mining Guild. A piece of alien technology embeds itself in Beth's arm, giving her the ability to see the energy impressions of long-ago people and events. When Beth uncovers proof of genocide that could bring down the big mining companies, she's the target of assassins.

Wyatt makes a split-second decision to intervene, launching them both into a high-stakes cat-and-mouse game with some of the most powerful organizations in the system. They can prove Kalok and Interplan killed millions – but can they live long enough to tell their story?




Larry N. Martin is the author of the new sci-fi adventure novel Salvage Rat. He is the co-author (with Gail Z. Martin) of the Spells, Salt, and Steel/New Templars series; the Steampunk series Iron & Blood; and a collection of short stories and novellas: The Storm & Fury Adventures set in the Iron & Blood universe. He is also the co-author of the upcoming Wasteland Marshals series and the Joe Mack Cauldron/Secret Council series.

Jeffrey Kafer – Jeffrey Kafer is a full-time SAG-AFTRA audiobook narrator. He has narrated over 450 books in almost every genre for such authors Clive Barker, Steve Alten, Maya Banks, Gregg Olsen and many others. He has 2 degrees in cinema and broadcasting and spent the first part of his career as a video game tester for Microsoft before following his true passion of acting. He's been on stage since he was 13 (his mom still has the bellhop costume she made) and currently lives in Los Angeles with his family and dog.
An adventure, with secrets at every corner and with a lot of entertainment – this is what this story brings to its readers. I was sold from the moment I laid eyes on the cover. It has the perfect color combination for what we have in the chapters.
So a man and a woman want to bring down a corporation that has been doing too much evil to our society. Our lady character is an awesome scientist, with some awesome technology at her disposal. I liked her abilities so much. She is "enhanced" enough not to put in lesser light her human abilities – intelligence and bravery. On the other hand, the male character used to be a hero. Now he is just a shadow of who he once was. But can Beth bring back Wyatt's savior qualities? Is the war important enough?
Well, it is, important and engaging and with many twists. I had so much fun and it was so easy to get lost in this adventure. The author created a world so vivid, I could picture everything in my mind. With a great narration, it was like seeing a movie. Yes, I would have liked a little more voice acting, but it did not spoil y enjoyment at all.
All in all, I loved it very much and I cannot wait to see more from Larry N. Martin. He has a lot to offer and his characters are amazing. I do hope you'll give it a try J
Free CD copies of the Salvage Rat audiobook are available to reviewers through the Adopt-An-Audiobook program.
Prize: 3-month Audible membership
Salvage Rat Giveaway: 3-month Audible subscription

Feb. 28th:
The Book Junkie Reads . . .

Mar. 1st:
Dab of Darkness Book Reviews
Mar. 3rd:
Turning Another Page
Mar. 4th:
Book Addict
Jazzy Book Reviews
Mar. 5th:
Lomeraniel
Lynn's Romance Enthusiasm
Mar. 6th:
Lilly's Book World
The Book Addict's Reviews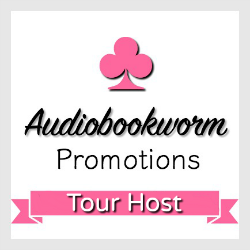 ➜Sign up as a host here