Author: Louise Cypress
Narrators: Reba Buhr, Alexander Cendese
Length: 5 hours 24 minutes
Series:
The Puritan Coven Series, Book 2
Publisher: Tantor Audio
Release date: Jan. 29, 2019
Genre: Paranormal Romance; Young Adult


An all-girls vampire camping trip turns deadly when a Sasquatch hunter is accidentally killed.

All Esma Siban wants this summer is to stay out of her stepmother's way. When her stepsister, Morgan, suggests a road trip to Oregon to visit a friend from high school, Esma jumps on the idea. A camping trip sounds like the perfect way to help Esma recover from breaking up with her boyfriend. But when Esma and Morgan encounter a stalker, Esma's fangs come out.

The death of a Sasquatch hunter wasn't on their itinerary. A terrified Esma is unsure what to do next, so she texts her ex-boyfriend for help.

Chase Wheeler feels like the biggest fool on the football team. The entire time he was dating Esma, he had no idea she was a vampire. In high school, Chase did exactly what Esma told him to. He let Esma plan their dates, pick his wardrobe, and even pack his lunches. Now, Chase has a month left before he starts college to forget the girl who froze his heart.

When Chase lands an internship on the popular radio talk show Fred Head, he finds his voice and charts a future that doesn't involve domineering girlfriends. But all it takes is one text from Esma and Chase runs back to her waiting arms. Chase finds the courage to tell Esma that he's through with being bossed around right when Esma realizes she desperately needs Chase's input.

The only way home from this camping trip is to be bitten or smitten.



Louise Cypress believes in friendship, true love, and the everlasting power of books. She has never met a vampire or a mermaid, but she has been to a Love Sucks concert on Valentine's Day. She can often be found curled up with a romance novel on Saturday night, diet soda in hand, secretly wishing bustles were back in fashion. Louise is from San Diego, California, where the beach is crowded and summer is immortal.

Reba Buhr grew up in the Pacific Northwest and now lives in Los Angeles, working in theater, film, and television. She has degrees from Occidental College in theater and classical voice. Reba began recording audiobooks in 2012 and has turned her love for performance into a passion for narrating characters that jump off the page. Reba is an accomplished voice actor and has lent her voice to many commercials, video games, and animated projects, including Popples and Knights of Sidonia for Netflix, Toonami's Hunter x Hunter, and Zagtoon's Zak Storm.

Alexander Cendese is a New York–based actor/narrator whose credits include roles on and Off-Broadway, in films, and on popular television shows, including Law & Order: SVU and All My Children. He holds a BFA from the Carnegie Mellon School of Drama.

Hello Book 2! I love this series! It has so much to offer and I cannot wait to discover book 3!
"Hunt Me" left me wanting more. I was in awe of that ending. Actually, the entire book was awesome! Now reading Esma's story completes the picture. Entertaining, but somehow in a different way, "Bite Me" is at least as gripping as the first book in the series. We have a different type of action, with a funny creature in the mix. Great, I tell ya!
Esma has been living the life of a puritan vampire – no drinking blood, especially human. When her boyfriend learns of her true identity, both their lives shatter. A relationship that seemed perfect in book one is now analyzed from both perspectives. There is also a deeper analysis into Esma's life and the pressure she lives under. Chase is now trying to find a purpose and start building his future. His relationship with Esma was his stability. When this shatters, he is lost.
However much I may love the book, I still have to point out some things. There is a lot of teenage drama here. We have parents not paying close attention to their children, one trying to capture the attention of her friend's ex… teenage problems. Well, Chase's apparent dependence on Esma is somehow off. I liked it, but it's a rather serious thing among less serious ones.
The narration was amazing, as I would have expected, after listening to book 1. If initially I had an issue with Alexander Cendese's interpretation, this time it didn't sound as shouted as in "Hunt Me" or as "newsy".  Reba Buhr – nice, clean and beautiful!
All in all, this book made me feel good! It came at a perfect time. If you are in need of a story that can keep you captivated and make you smile from time to time, this is it. I cannot wait to read book 3, as it contains Cassandra's story. Loved it, 5 stars!
P.S.: You will notice from the tour schedule below that I have missed my original stop date  – I formally apologize to Jess and the author. Unfortunately, I was too caught up with my other job and had no time to myself. You guys should check out the other stops for more fun content and more opinions about the books in The Puritan  Coven Series!
I received this audiobook as part of my participation in a blog tour with Audiobookworm Promotions. The tour is being sponsored by Louise Cypress. The gifting of this audiobook did not affect my opinion of it.

Giveaway: $30 Amazon Gift Card
The Puritan Coven Series Giveaway: $30 Amazon Gift Card

BOOK ONE
Mar. 7th:
Mar. 8th:
Mar. 9th:
Mar. 10th:
Mar. 11th:
Mar. 12th:
Mar. 13th:
WonderlandiansBooks (Review)
BOOK TWO
Mar. 14th:
Mar. 15th:
Mar. 16th:
Mar. 17th:
Mar. 18th:
Mar. 19th:
Mar. 20th:
BOOK THREE
Mar. 21st:
Mar. 22nd:
Mar. 23rd:
Mar. 24th:
Mar. 25th:
Mar. 26th:
Mar. 27th: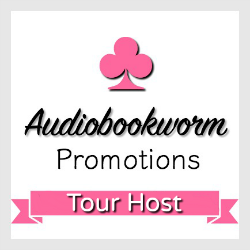 ➜Sign up as a host here