Author: Alex Lidell
Narrator: Kaitlin Bellamy
Length: 6 hours and 57 minutes
Publisher: Danger Bearing Press
Released: Sep. 8, 2017
Genre: YA Fantasy


Master and Commander meets Sarah J Maas in a seafaring adventure of duty, love, magic, and a princess's quest to protect her kingdom on her own terms.

After a lifetime of training, 17-year-old Princess Nile Greysik, a lieutenant on the prestigious Ashing navy flagship, sails into battle with one vital mission – and fails.

Barred from the sea and facing a political marriage, Nile masquerades as a common sailor on the first ship she can find. With a cowardly captain, incompetent crew, and a cruel, too-handsome first officer intent on making her life a living hell, Nile must hide her identity while trying to turn the sorry frigate battle worthy. Worse, a terrifying and forbidden magic now tingles in Nile's blood. If anyone catches wind of who Nile is or what she can do, her life is over.

But when disaster threatens the ship, Nile may have no choice but to unleash the truth that will curse her future.

Air and Ash is the thrilling first installment of the TIDES series. Recommended for fans of Sarah J. Maas, Tamora Pierce, and David Weber.




Alex Lidell is the author of Amazon best sellers AIR AND ASH and WAR AND WIND (Danger Bearing Press, 2017) and an Amazon Breakout Novel Awards finalist author of THE CADET OF TILDOR (Penguin, 2013). She is an avid horseback rider, a (bad) hockey player, and an ice-cream addict. Born in Russia, Alex learned English in elementary school, where a thoughtful librarian placed a copy of Tamora Pierce's ALANNA in Alex's hands. In addition to becoming the first English book Alex read for fun, ALANNA started Alex's life long love for YA fantasy books.

Kaitlin Bellamy is a freelance performer and acting coach residing in Central Florida, with a theatrical history spanning more than twenty-five years.

Since relocating to Orlando in 2012, she has worked at multiple theme parks and various theatrical venues, in a career style she calls "Buffet Performing:" or, the idea of keeping several jobs active at any given time, so she may pick and choose where to work, and life never gets boring. Her specialties include Shakespeare, Voice Acting, and Puppetry. But above all, she is passionate about the performing arts, and all they stand for.

"Air and Ash" is definitely a great start for a series. It gives you just the right amount from the story so that you won't get tired in the first book and to want more from the next. It was something different seeing a princess working hard to defend her people in battles and fighting along as a lieutenant.
Her plans are messed up when a defeat reveals what her family had prepared for her future instead. She was supposed to marry the prince of a neighboring kingdom, while she was determined to find a cure for her brother's "curse". From here she embarks, not only literary, to a journey that hopefully will deliver her to her goals and as well to self-discovery.
Nile is a strong character, but always human. She has flaws like pride, stubborn and too obsessed with battles. On the other hand, that's all she has ever known. She has never imagined a life outside of war ships, never thought about families and romance. Well, except always hoping to find something that can bring back her brother's sanity. She will soon find out she has her own power inside and only mastering it she can learn to control it.
Nile and Domenic should not get involved, at all! Domenic is her superior on the Aurora, she will be his downfall. He knows it, that's why he will never acknowledge her. And at times during the story, I really felt he did not. Because Nile was all alone, fighting her own problems, be those simply imposing herself as a team leader or fighting her own demons. The way their connection was built was amazing at least!
The writing was to my liking as well. Though I have to admit the action builds a bit difficult and at some point I was waiting for something explosive to happen. And it did, but at the end of the story. It does have a major cliffhanger.
The narration was absolutely fantastic. Kaitlin Bellamy does a great job at making the distinction between different nationalities. She uses different accents and her voice acting is great as well! I loved her interpretation for this book immensely!
 All in all, I loved it very much. 4.5 stars and looking forward for the next ones in the series J Enjoy!
I received this audiobook as part of my participation in a blog tour with Audiobookworm Promotions. The tour is being sponsored by Alex Lidell. The gifting of this audiobook did not affect my opinion of it.

Oct. 18th:
The Audiobookworm
History from a Woman's Perspective
Oct. 19th:
Oct. 20th:
Oct. 21st:
Dab of Darkness Audiobook Reviews
Oct. 22nd:
Oct. 23rd:
Oct. 24th:
Pregnant, Barefoot, in the Kitchen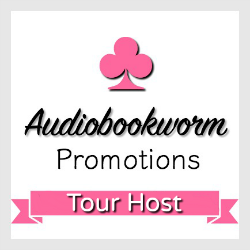 ➜Sign up as a host here