Author: Michelle Madow
Narrator: Andrea Emmes
Series: The Transcend Time Saga, Book 1
Length: 7 hours 5 minutes
Publisher: Dreamscape Publishing
Released: Jul. 31, 2017
Genre: Clean Romance


They're reincarnated soulmates. So why is he pushing her away?

Lizzie Davenport has been reincarnated from 1815, England … but she doesn't know it until she meets her soul mate from the past and he triggers her memories to gradually return.

When Drew Carmichael moves to Lizzie's town, Lizzie feels a connection to him, like she knows him. But he wants nothing to do with her. She knows she should let go of her fascination with Drew, but that gets harder and harder as memories of her past life return. And the more Lizzie remembers, the more she's determined to unravel the mysteries of the past … no matter how deadly those secrets might be.

A romance with a fantasy twist that listeners of all ages will love!





Michelle Madow is a USA Today bestselling author of fast paced fantasy novels that will leave you turning the pages wanting more!
She grew up in Maryland and now lives in Florida. Some of her favorite things are: reading, traveling, pizza, time travel, Broadway musicals, and spending time with friends and family. Someday, she hopes to travel the world for a year on a cruise ship.

Audible Best Selling Narrator, Andrea Emmes was born in Hollywood, FL and grew up in both Tennessee and Rhode Island, started her career in musical theater. Cutting her teeth at The Trinity Arts Center in Rhode Island, Andrea eventually made her way to Orlando and began her eclectic career singing/dancing in various shows at Walt Disney World, Universal Studios, Pirates' Dinner Adventure, performing as a magician's assistant, headlining on the Las Vegas Strip and touring Los Angeles as an L.A. Award winning artist with her album, "I'm On My Way".
Having worked in tv, film and video games, Andrea, a total Book Nerd, now enjoys narrating audiobooks at her home studio in San Jose, California.
Her wide range of character voices and dynamic/emotionally invested performances has reviewers and listeners alike commenting on how she effortlessly pulls listeners in, and has versatility and charisma.

Part one of "The Transcend Time Saga" was indeed a good start for the series. At least it made me look forward for the next books. Though it has several items that were not to my taste, I did enjoy my time listening to the audiobook.
Lizzie and Drew are meant to be together, or so it seems soon after they meet. He knows, she will soon find out. There will be no problems here, but unfortunately, Elizabeth has a boyfriend and he will become her best friend's boyfriend. Yup, a little tricky here. Now, it seems that Drew is trying to avoid hurting Elizabeth again in this life time as well. Therefore, he will try avoiding her at all costs. However, history has always a way of repeating itself and some things just cannot be undone or unwritten.
I liked both main characters well enough. Lizzie is an average student, determined to become better at the subjects of interest to her. She tries to be a best friend and a best girlfriend, though it sometimes is difficult to be good at both. She comes to realize her feelings for the new boy, Drew, are difficult to ignore, especially since she has a feeling this is not at all new to them. Drew, on the other hand, knows more of the story, but is not willing to share it for the time being. His way of dealing with his feelings was not at all believable. I mean, if you one to avoid someone you like or love, you definitely should not hang out with said person's best friend.
I completely hated Chelsea and Jeremy. They were both self-centered and not at all the best friend and boyfriend one should desire. Because of them, Lizzie seems to be a little naïve as well. The connection between all characters is somehow typical for high school. But for me, it was enough.
The narration was ok as well, the writing simple and to the point. Even if I may not be comfortable with the setting or development of the whore reincarnation issue, I am still waiting to see what happens next. It's a good book to pass the time, not excellent or amazing, but for now, it's good. Let's see what happens next!
I received this audiobook as part of my participation in a blog tour with Audiobookworm Promotions. The tour is being sponsored by Andrea Emmes. The gifting of this audiobook did not affect my opinion of it.

The Transcend Time Saga Giveaway: $20 Amazon Gift Card

Remembrance, Book 1
Oct. 22nd:
Oct. 23rd:
Oct. 24th:
Oct. 25th:
Dab of Darkness Audiobook Reviews
Oct. 26th:
Oct. 27th:
Oct. 28th:
Vengeance, Book 1.5
Oct. 29th:
Oct. 30th:
Oct. 31st:
Timeless, Book 2
Nov. 1st:
Nov. 2nd:
Nov. 3rd:
Nov. 4th:
Nov. 5th:
Nov. 6th:
Nov. 7th: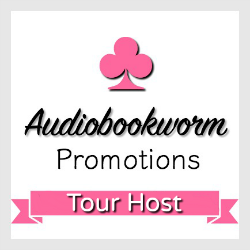 ➜Sign up as a host here