Author: S.M. Blooding
Narrator: Kalinda Little
Series: Whiskey Witches, Book 1
Length: 12 hours 15 minutes
Publisher: Whistling Book Press
Released: March 4, 2017
Genre: Supernatural Thriller


Detective Paige Whiskey comes from a long line of witches. They may not all be the most powerful, but they are outspoken and supportive of their community. She alone has no gifts. She can't summon fire, can't read minds. She knows the arcane. She's studied it. That, along with her connection to the Whiskey Witches, lands her some pretty strange cases.

Like the sacrificial murders of St. Francisville, Louisiana. There's a killer on the loose, choosing people in a vain attempt to raise a demon. Not just any demon, though. A man born long ago, made a demon in order to protect the Gate to Hell.

Together with demon hunter, Dexx Colt, her kitchen-witch grandmother, and her paranormal investigator brother-in-law, they unravel a conspiracy far bigger than a few simple murders, and re-discover Paige's gift.

She's a demon summoner and she's key to the killer's plan.




Frankie lives in beautiful Montana with her Darling Dork, his two part-time girls, and their cat, Tesla. She enjoys creating with her wonderful husband, doing everything from crochet, to sewing, to art, and, of course, writing. She's lived a pretty colorful life, giving breath to her stories.

She's dated vampires, werewolves, sorcerers, weapons smugglers, U.S. Government assassins, and slingshot terrorist. No. She is not kidding.

Kalinda Little is a 28 year old web developer who started playing around with audio and never stopped. Currently based out of Portland Oregon, she has spent time all up and down the West Coast, including several years is Ashland where she worked backstage at the Oregon Shakespeare Festival. She is a chapter leader for the Nine Bridges Writers, a nonprofit that aims to assist and support writers in all genres, by providing resources and critique.

While she only started recording professionally in April of 2016, she had over two hundred hours of amature recording and editing available before that point. To date, she has narrated 27 books, with another 3 set to come out before the end of 2017.


"Whiskey Witches" is great for the fans of Supernatural – which I am. But regardless of the show, it is a great book, with a complex and complicated plot. The story gets deeper and deeper with very page.  So yes, I liked it.
Our main character is faced with a lot of battles, not only with demons, but family and even herself. With her powers and memories banned by magic, she is vulnerable. But once she gets her mojo back, she is on for business. People still are afraid of what she can do, few trust her to make the right decisions. So she has become though, badass, uninterested in anybody's opinion, but with her head well in the game. Yes, they say she is evil; they blame her for all the bad things now happening. But she is facing everything alone, no allies, nobody to advise what would be the best way to handle her gifts. So I like this independence and this force she has inside to overcome the obstacles. I think she is a very complex character and a lot can be discussed about Page Whiskey.
We have some romance as well between her and her demon hunter friend Daxx. The funny thing is she is summoning demons, while he catches them. But they will let the attraction build between them and Page will count on him on every occasion.
I did not feel that confortable with the amount of detail we get form their past lives. I felt like there was another story which I failed to read before this one. There is a lot of background to which we are familiarized kind of quickly. In my opinion, it would have been better to have some kind of introduction, to better grasp the events that led to this book.
The narration was quite all right, even if I had some issues distinguishing between the characters. Kalinda Little is doing a great job expressing emotions and making you like or dislike a character or the tone in which they speak at times. However, it was difficult identifying who was talking at times.
All in all, 4 stars for Book 1 and I am looking forward to listen to the next volume. It is not a great read at all, but is an enjoyable one for sure. Have fun!
I received this audiobook as part of my participation in a blog tour with Audiobookworm Promotions. The tour is being sponsored by S.M. Blooding. The gifting of this audiobook did not affect my opinion of it.
The Perks of Being An Author by S.M. Blooding
Really and truly, being an author is hard work. I get up at 6:30am and work until about 9-11pm with very few breaks. There's so much to do! There's writing and editing and covers and marketing and ads and formatting and websites and…that's just your book. When you're also working with other authors, then you get to do that with their books, too.
It's a lot of long hours and sore muscles and eating like a college student–not because you can't afford more, but because you don't have time for anything else. Your house looks like a wreck and you just hope that no one actually wants to come by because you're screwed. Your family constantly wants more time with you and your writing is constantly suffering because everyone needs more time than you do, and you're constantly being guilt-tripped into doing other things because… it's just writing.
But it's amazing when your book touches someone. When your soul vomit reaches through the pages and touches and someone, talks to them, or teaches them something. When they see something they normally wouldn't have. It's beautiful and amazing.
And makes all the long hours, sore muscles, bad meals, and whining kids worth it.


Whiskey Witches Giveaway: 3-Month Audible Membership

Whiskey Witches, Book 1
Oct. 29th:
Dab of Darkness Audiobook Reviews
Oct. 30th:
Oct. 31st:
Nov. 1st:
Nov. 2nd:
Nov. 3rd:
Nov. 4th:
Blood Moon Magick, Book 2
Nov. 5th:
Dab of Darkness Audiobook Reviews
Nov. 6th:
Nov. 7th:
Nov. 8th:
Nov. 9th:
Nov. 10th:
Nov. 11th: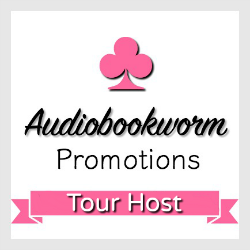 ➜Sign up as a host here