Author: L.A. Kelley
Narrator: Cassandra Richardson
Length: 9 hours and 57 minutes
Series: Rimrider Adventures, Book 1
Publisher: L. A. Kelley
Released: Aug. 22, 2017
Genre: Science Fiction


Orphan, pirate, spy.

Awakened by her father, teenager Jane Benedict is ordered to memorize a mysterious code. Hours later, Mathias Benedict is dead and Jane and her brother, Will, are wards of United Earth Corporation. To evade the company's murderous clutches and uncover the meaning of her father's last message, Jane leads Will on a desperate escape across the galaxy aboard the Freetrader smuggler ship, Solar Vortex. Tangled in the crew's fight for freedom, Jane saves the life of young smuggler, Mac Sawyer, and learns her father's code identifies a secret cargo shipment. The trail leads to the planet Rimrock and the massive prison complex of Golgotha. Undercover as a spy, Jane stumbles into a conspiracy that can spell doom for the entire Freetrader cause and the extinction of an alien race. Can she escape the prison confines and deliver a warning before it's too late?

Piracy, intrigue, romance, space battles, and a daring rebellion from Earth wait on the galactic rim. Will Jane answer the call to adventure and find new purpose, or is death for high treason her fate?

What will you hear in this audiobook? No whiny, crybaby characters, only action, adventure, sweet romance, and a bit of sassy humor. It is suitable for kids through adult.




A. Kelley is from Florida and has been writing fantasy and science fiction adventure stories for all ages since she was old enough to chew on a number two pencil. All her books have adventure, humor, and a little romance because life is dull without them. She doesn't write graphic sex or gore so your mama would approve, but does add a touch of cheeky sass so maybe she wouldn't. In her spare time she calls in Bigfoot sightings to the Florida Department of Fish and Wildlife. They are heartily sick of hearing from her.

Cassandra Richardson is a multi-discipline artist specializing in Audiobooks, Musical Theatre, and Film. Her eclectic background has resulted in a varied and exciting career. You can see her on the stages of Southern California and in three indie features coming out in 2018. Her audiobooks are primarily Young Adult Fantasy / SciFi and The Rimrider Series is among her favorites! Who doesn't love the idea of being a space pirate? Giving voice to Jane and her band of fellow pirates has been a wonderfully creative experience.


Oh, the blurb did promise some action and it did happen. "Rimrider" is a story that will grab you from the beginning. I was captivated after the first 30 minutes and he narrator had a major contribution!
Jane and Will are thrown in a conspiracy that seems beyond their understanding. At a young age they learn to lean on each other, to fight for their life and freedom. So except the whole "run for your life", family is a big theme here. This, combined with a bit of romance, a bit of conspiracy and lots and lots of adventure make the book an amazing experience.
Jane has to be the adult now, after losing her father too. She has to take care of Will, provide for him, and ensure his future. Well, ensure he has a future, a life to live. Entrusted with a code which has no meaning, she will become part of this universal plot. Will seems more mature than his age, which is quite understandable, after everything.
The bonds between the characters are built well enough. The writing is quite catchy. And most importantly, this book can be read/listen to by youngsters too. The narrator is so amazing!!! This is my first book narrated by Cassandra Richardson and I hope it will not be my last. She has a way with expressing … everything! I loved her way of differentiating between the characters,
All in all, I liked the book very much and it's a great start for a series. "Rimrider" has a little of everything and it's action packed. It did not feel boring, it gave me a good time passed. Loved it, recommend it.
I received this audiobook as part of my participation in a blog tour with Audiobookworm Promotions. The tour is being sponsored by L.A. Kelley. The gifting of this audiobook did not affect my opinion of it.

Rimrider Giveaway: $10 Amazon Gift Card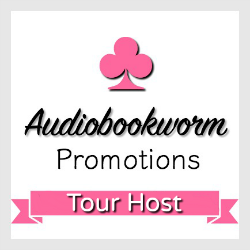 ➜Sign up as a host here