Author: Patrice Wilton
Narrator: Rita Page
Series: A Heavenly Christmas, Book 1
Length: 6 hours 11 minutes
Publisher: Patricia Wilton
Released: Sep. 15, 2016
Genre: Contemporary Romance


Jennie Braxton and her two small children are traveling to Philadelphia for Christmas with her family. Car trouble lands them in a magical town called Heaven, PA. Everything about this sweet place seems too good to be true, especially Nick Ryan, a local chef with a heart as big as her own. His sensual smile tempts her from mourning the loss of her husband, to look into the future. Can her dreams of finding happiness again come true, or will her heart hide safely in the past?



Patrice Wilton knew from the age of twelve that she wanted to write books that would take the reader to faraway places. She was born in Vancouver, Canada, and had a great need to see the world that she had read about.

Patrice became a flight attendant for seventeen years and traveled the world. At the age of forty she sat down to write her first book—in longhand! Her interests include tennis, golf, and writing stories for women of all ages.

She is a mother of two, has four lovely grand-daughters and one grandson, and a wonderful man at her side. They live in West Palm Beach, Florida, where he teaches her golf, and she teaches him patience.

She has twenty-five books published on Amazon, and is a NY Times and USA Today best selling author.

Rita Page was always the first to volunteer to read aloud, whether it was Bible verses during family devotions or stories to her classmates in elementary school. Now as a freelance videographer and voice talent, Rita is passionate about using her God-given talents and tools to produce stories that reach the heart.

She also loves horses, beach volleyball and creating healthy, colorful and tasty meals with whole fruits and veggies.

A story about loss, love and … food, "A Heavenly Christmas" is a perfect combination to warm up the cold winter weather. This is not my first encounter with Patrice Wilton, but I like how this series started better than the other series I've read by her.
What would you do if you landed in Heaven by accident? I mean the town, not the clouds. Well, our main character's heart starts to beat again after the loss of her husband. She meets the local chef, Nick Ryan, whose life has its own issues. Both characters have wounds to heal and still a lot of love to offer.
I liked the connection between them a lot. The romance aspect was very well presented, better than I was expecting. Out of the two, I think this is more Nick's story than Jennie's, as his has too many scars to count on his heart. He wishes to avoid the misfortunes he's had in his childhood, so his demons are far too many. However, he is willing to look into the future and he is the pillar in the relationship with Jennie. She, on the other hand, still mourns her husband's death and wants to respect his memory. But wouldn't our loved ones want us to be happy? Well, this is something she will have to figure out. And Nick will have to understand that the road he's heading on is only up to him.
We each have amazing powers inside us, the power to love beyond time, the power to heal our souls, the power to make great food (although, this is limited edition) J Patrice Wilton did a great job with the first book in the "Heavenly Christmas Series". Unfortunately, the narration was no that much to my taste, as I felt it was a bit exaggerated at times. So an average of 4 stars go to this lovely book. Enjoy J
I received this audiobook as part of my participation in a blog tour with Audiobookworm Promotions. The tour is being sponsored by Patrice Wilton. The gifting of this audiobook did not affect my opinion of it.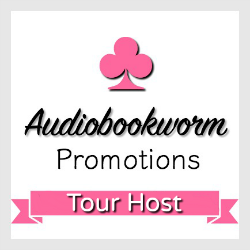 ➜Sign up as a host here