Author: S.M. Blooding
Narrator: Kalinda Little
Series: Whiskey Witches, Book 2
Length: 9 hours 17 minutes
Publisher: Whistling Book Press
Released: Jul. 5, 2017
Genre: Supernatural Thriller


Going back to Denver should have been easy. Old life. Old routine. Ten kinds of "all good." However, with her gifts open, the paranormal world isn't going to let her have that easy life. It turns out her partner of the last five years is a vampire and has been for several decades. He's also the regional paranormal protector. So when a few shapeshifters go missing, he gets the case. But there's also a demon killing those shapeshifters, a demon she can't hunt because she's still an open target for possession. Not to complicate matters, Dexx isn't about to let Paige out of his sight. Bringing a demon hunter to a shapeshifter party only makes things that much more interesting. But when he gets bitten, the entire game changes.




Frankie lives in beautiful Montana with her Darling Dork, his two part-time girls, and their cat, Tesla. She enjoys creating with her wonderful husband, doing everything from crochet, to sewing, to art, and, of course, writing. She's lived a pretty colorful life, giving breath to her stories.

She's dated vampires, werewolves, sorcerers, weapons smugglers, U.S. Government assassins, and slingshot terrorist. No. She is not kidding.

Kalinda Little is a 28 year old web developer who started playing around with audio and never stopped. Currently based out of Portland Oregon, she has spent time all up and down the West Coast, including several years is Ashland where she worked backstage at the Oregon Shakespeare Festival. She is a chapter leader for the Nine Bridges Writers, a nonprofit that aims to assist and support writers in all genres, by providing resources and critique.

While she only started recording professionally in April of 2016, she had over two hundred hours of amature recording and editing available before that point. To date, she has narrated 27 books, with another 3 set to come out before the end of 2017.


I definitely liked book 2 more than book 1. It was far better explained and the characters are more mature and diverse (in terms of species).  So let's get into the pros and (not so many) cons.
Page has returned home, with her partner, doing what she does best – solving crimes. There are ties with the previous book, as she is still searching for Sven and still bares the consequences of the fight she had with him and the deal she made. I am trying to spoil as little as possible from the story, so I apologize if I sound vague. Anyway, we have an action packed story, with mystery and a combination of creatures. We have crimes, vampires, shapeshifters, demons and magic!
Page is stronger, when it comes to her powers, but fragile in some ways, when it comes to her personal life. I loved how the author presented her indecision when it comes to the relationship with Dax.  She tries her best to stay way rom demons and from her original powers, however she proves to have many more. Her interactions with the other characters are better than in the previous book and definitely her personality is more visible.
Dax and Tony are as well much involved in the story, especially Tony, who has his own secrets. The exchanges between him and Page are great and full of attitude from both sides. So yes, I liked them all!
The narration is ok, I maintain my opinion form Book 1. The narrator did a great job telling the story, but I had difficulties making the difference between one character and the other.
Not much negative items being said, I cannot give less than 5 stars. I enjoyed the story a lot, it held my attention until the last minute. I hope you will enjoy it too. Have fun J
I received this audiobook as part of my participation in a blog tour with Audiobookworm Promotions. The tour is being sponsored by S.M. Blooding. The gifting of this audiobook did not affect my opinion of it.

Whiskey Witches Giveaway: 3-Month Audible Membership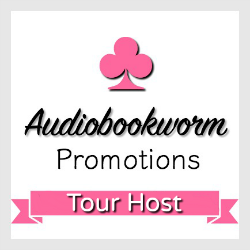 ➜Sign up as a host here