Author: Jas T. Ward
Narrator: Edward Mittelstedt
Length: 8 hours 46 minutes
Series: Soul Bound, Book 1
Publisher: JTW Publishing
Released: Oct. 6, 2017
Genre: Paranormal Romance


Death May Be The End…
But Love Doesn't Give A @&%#.

Murderer…
Jace Camden is haunted by his past. One that has many believing he got away with murder. He's run from it, trying to start a new life in a new town. But his past hasn't let him escape and it's determined that his future will not be a long one.
Death will demand it's due.
And his late wife will make sure that debt is paid.
Kitt Thomas' life is in a rut but that changed when she looked into the sad, haunted eyes of Jace Camden. Something about his wounded soul called to her–like a flicker in a very dark cave she should have had the sense not to step into.
But his past will make sure she is no more part of Jace's future than life is.
Because he's soul bound.
And that's a bind that can only be broken by death.
His.

It's not about the Happily Ever After…
It's about surviving the read.




Jas T. Ward has always used writing as a necessary escape. With a past that is marred with a difficult childhood and domestic violence as well as being homeless as an adult, Ward lost her creative voice when she lost her soul mate to suicide.

Finding that creative voice once again in writing in social media via blogs and creative writing groups, it was the fans that encouraged her to put her literary weavings to paper for them to enjoy.

Ward lives in Texas with her dog and cat- Author Dog Pumkin and Writer Kitty Orleans and is the proud parent of three independent children.

Eddie was born and raised in California. At a young age, he loved to create cartoon-like caricature voices and perform them to anyone who would listen. His friends and family told him he should be in the voice-over industry when he grew up.

He currently works at Oceaneering International near Baltimore, creating software control systems for both remotely-operated and autonomous underwater vehicles.

His dream of being a voice actor was forgotten until recently he came across a friend who is a narrator for Audible. The possibility of being in the voice-over industry was rekindled, and after harassing his friend incessantly on the details of becoming an Audible narrator, you find Eddie's story here today.
Soul Bound: The Warrior is currently available on the Adopt-An-Audiobook page for interested reviewers!

Now I'm wondering if the other books in the series are at least as good as this one or if they are even better. I've finished it last night and I am still shaken up by all the events happening. This book does not give you a moment of peace and tranquility.  It goes from one event to the next, it is freaking good! (both freaking and freaking good!).
The plot follows Jace Camden, whose wife passed away 5 years ago and since then he has not found a moment of silence. Her family follows him around, constantly accusing him of murder, while doctors hurry up to declare him insane. Little do they know he has another fight going on. But is he the only one fighting? By far, this is one of the most engaging books I've ever read.
Jace is one complex character. His fear of getting close to others has two causes, one of which is his to deal with. His late wife's family is constantly trying to ruin all connections he manages to find, but the funny thing is he is good at it all alone. With Laura's ghost as a constant presence, he has difficulties keeping friends close. All changes when Kitt Thomas decides to take a chance on him. This time he is not alone, this time he has people who are willing to help.
I am afraid of giving up too much, yet I want to somehow give you an understanding of how really great his book is! Mental illness is present in the book as well, as Jace is one step closer to being sent to a mental institution. However, his need to open up, his friends willing to help (or not willing to abandon him as all usually do) are one constant that keeps him anchored in this world. Even if something else is calling him to the other side.
I was this close to give it 4 stars. Last night I was so furious! At one point, Jace's past is too fast revealed to the others too fast and there is one sex scene that in my opinion was a little too much. These two elements unnerved me so much because the entire book is so well written and just these two silly moments did not stay well with me. But I cannot, because several hours have passed and I am still thinking this was an awesome story!
From the audio perspective, even if the narrator did not do that well with the voice acting, there are some effects here and there, like a weird laughter, and the main character's desperation is well captured and well transmitted to the listener.
I apologize for the long review, but there are so many things to say about this book. I cannot wait to get to the next one! Please give it a try and come back and let me know what you think. Oh, the end is also mind-blowing! I loved it – 5 stars, no doubt!
I received this audiobook as part of my participation in a blog tour with Audiobookworm Promotions. The tour is being sponsored by Edward Mittelstedt. The gifting of this audiobook did not affect my opinion of it.

Nov. 21st:
Nov. 22nd:
Nov. 23rd:
Nov. 24th:
Dab of Darkness Audiobook Reviews
Nov. 25th:
Nov. 26th:
Nov. 27th: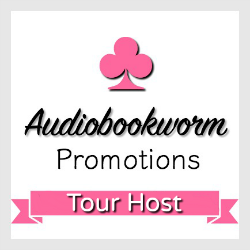 ➜Sign up as a host here