Author: Shannon A. Thompson
Narrator: Jonathan Johns
Length: 5 hours 15 minutes
Series: Bad Bloods, Book 1
Publisher: Clean Teen Publishing
Released: Sep. 12, 2017
Genre: Young Adult Dystopian


Seventeen-year-old Serena isn't human. She is a bad blood, and in the city of Vendona, bad bloods are executed. In the last moments before she faces imminent death, a prison guard aids her escape and sparks a revolt. Back on the streets determined to destroy her kind, Serena is spared by a fellow bad blood named Daniel. His past tragedies are as equally mysterious as her connection to them. Unbeknownst to the two, this connection is the key to winning the election for bad bloods' rights to be seen as human again. But Serena is the only one who can secure Vendona's vote. Now, Daniel must unite with her before all hope is lost and bad bloods are eradicated, even if it means exposing secrets worse than death itself. United or not, a city will fight, rain will fall, and all will be threatened by star-crossed love and political corruption.



Shannon A. Thompson is a young adult author, avid reader, and a habitual chatterbox.
As a novelist, poet, and blogger, Thompson spends her free time writing and sharing ideas with her black cat, Bogart, named after her favorite actor, Humphrey Bogart. Her other two cats bring her coffee. Between writing and befriending cats, Thompson graduated from the University of Kansas with a bachelor's degree in English with an emphasis on creative writing, and her work has appeared in numerous poetry collections and anthologies. Represented by Clean Teen Publishing, Thompson is the best-selling author of the Timely Death trilogy and the Bad Bloods series. When she is not writing, she is climbing rooftops, baking cookies, or watching KDramas in the middle of the night, often done with her cats by her side.

Jonathan Johns is a professional audio book narrator, voice actor and family man.

As an audio book narrator he spends most of his time in front of a microphone spouting written words into Audacity. In his spare time he looks after his daughter Aria. He is currently recording all his audio books in Aria's bedroom! Jonathan is known for his character work and spends far too much of his time using other characters voices in daily life. He currently has over 20 audio books to his name and has voiced hundreds of characters in them (all with varying degrees of success!). Be it Male, Female, American, British, Elderly, Youthful or anything in between, Jonathan has a voice for you.

"Bad Bloods" starts off quite well! I took my time enjoying the 5 hours of this audiobook. Funny thing is that, after seeing on Goodreads it has 230 pages, I was thinking: "Do I usually read a book of 200 pages in 5 hours? " I have no clue, but it's a test I'm willing to take. That's a story for another time, back to the review.
"November Rain" felt more as an introduction to a bigger picture, to the actual action of the story. It slowly, but beautifully, builds towards that amount of excitement from the second part of the story and towards the second book. I don't say that as a bad thing, on the contrary. The plot is full of political intrigue, it shows a generation of teenagers fighting for a world who has rejected them, for their future, for their right to live.  Shannon A. Thompson has done a magnificent job portraying each of the main characters and the secondary ones as well. Their background plays an important role in the coming fight, so I'm glad she has taken the time to create them and expose them to the reader in this manner. Alternating between Serena and Daniel's POVs, we are gifted with views from both sides, two apparently similar groups, but with so many secrets separating them.
Serena and Daniel have their own connection, a tie that they will have to untangle and discover on their own. Joined by their desire to live and protect their new families, both will have to come together as one and fight a political system that wants them dead. As I've mentioned, the author has done a great job in presenting their traits and powers. They will slowly come to realize what they mean to each other and the road to that point is not at all boring or unimportant.
I must admit that at some point I got lost between the other characters. I was not sure if I should remember all their names and features. I even started writing down so I could mention them in my review. However, what is really important is the war they will have to face and how two groups with the same goal prepare for a fight they may or may not be ready to deal with.
I was missing that English accent in narrations! I loved Jonathan Johns's voice so much. It was clean, warm and so easy to understand. I only wish the distinction between male and female characters would have been better realized.
A great story (a long review, sorry about that!) and such a big ending! I would recommend listening (or reading) "November Rain" only if you are prepared for what's to come, as it will leave you wanting more.  For reasons I've detailed above, I am giving this book 4 out of 5 stars.
I received this audiobook as part of my participation in a blog tour with Audiobookworm Promotions. The tour is being sponsored by Clean Teen Publishing. The gifting of this audiobook did not affect my opinion of it.

November Rain Giveaway: Clean Teen Publishing Mystery Box

Nov. 19th:
Dab of Darkness Audiobook Reviews
Nov. 20th:
Nov. 21st:
Nov. 22nd:
Nov. 23rd:
Nov. 24th:
Nov. 25th: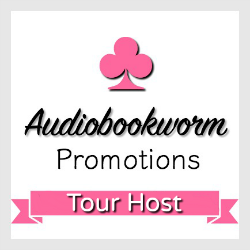 ➜Sign up as a host here