h3>
Author: Amber R. Duell
Narrators: Bradley Pittman & Jamie Lee-Lewis
Length: 8 hours 10 minutes
Publisher: RadiantTeen Publishing
Released: Oct. 17, 2017
Genre: Fantasy


A god of war seeking restoration. An unwilling sacrificial bride. Betrayal that could destroy them both.

Every fiber of my being is woven from the rage of mortals.

Theodric, the young God of War, has a talent for inciting conflict and bloodshed. After being stripped of his powers by his older brother, King of Gods, he sets out to instigate a mortal war to prove himself worthy of being restored to power.

I loved Kisk once; it was my home… But that was before. This is now.

Sixteen-year-old Cassia, like many in the modern era, believes gods and goddesses to be just a myth. Enemy to her country and an orphan of the war, she has no time for fairy tales. That's until religious zealots from Theo's sect offer her up as a sacrifice.

Can Cassia and Theo end the mortal war and return balance to the earth and heavens? Or, will their game of fate lead down a path of destruction, betrayal, and romance neither of them saw coming?





Amber R. Duell was born and raised in a small town in Central New York. While it will always be home, she's spent the last six years living in Germany and Maine as a military wife where the next step is always an adventure.

When Amber isn't writing, she's wrangling her two young sons. She is a lover of history, a fan of snowboarding, and a travel enthusiast. In her downtime, she can be found curling up with a good book and a cat or two.

Bradley Pittman is a producer and freelance musician living and working in Atlanta. He received a bachelor's degree in audio production from Georgia State University in 2016. Though he most commonly works on musical projects, he began self-producing audiobook chapters in 2015 as a way to unite his love of studio production with his love of literature.

Jamie-Lee Lewis, aka Jaylew, hails from the island of Jamaica. Since a small child, she's always had a hyper imagination. She enjoys writing and telling stories, singing and composing songs, entertaining and edifying, playing different characters as well as creating them through drawings, and finding the beauty and fun in everything she does. She is currently a professional and passionate Youtuber.

First off, I love mythology and all that comes with this subject. To combine mythology with present times is risky if not more. One has to be very skilled with writing, so that the story does not flow into ridiculous. But, with this book I felt the joy of reading about gods and their wars and passions for humans.  The author did a great job describing the plot and intertwining mythological aspects with our mortal lives.
The story plunges directly into action. We don't get a moment to spare and I felt quite attracted from the first pages. Theo's stubbornness is what's driving the book for now. But once Cassia enters, her stubbornness will match his. They will form a great team (and maybe more?) and together will find a way to balance their relationship.
The characters are a match to each other. The attraction between them is visible from the first moment they lay eyes on each other. However, Theo has bigger plans and worlds to fight for. He doesn't need to worry about a mortal.  Cassia didn't ask for this, she is as bothered by the situation as he is. But she will try to adapt. They both will try to adapt and face the consequences. The dialogue brought a smile to my lips more times than one and it adds to the good time spent reading it.
Other great things are: the audio format and the world building. The narrators did a great job as well. Their voices were perfect for the characters and they complemented each other quite nicely. I would recommend this version as is more captivating, but the book can quite well do it too. As for the world building, it was amazing and truly mythical.
I had a great time, I loved the story, loved the characters, the narration, the writing. No point in giving less than 5 stars. Hope you'll enjoy it too. Happy Reading
I received this audiobook as part of my participation in a blog tour with Audiobookworm Promotions. The tour is being sponsored by RadiantTeen Publishing. The gifting of this audiobook did not affect my opinion of it.

Fragile Chaos Giveaway: $5 Amazon Gift Card/eBook OR Headphones/Mug/Tea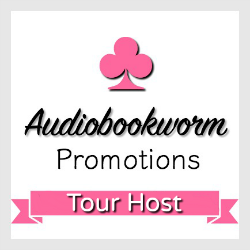 ➜Sign up as a host here