Author: H.J. Bellus
Narrators: Lacy Laurel
Length: 8 hours 26 minutes
Publisher: Heidi J. Hooper
Released: Nov. 15, 2017
Genre: Contemporary Romance
A tragic accident. A mother in mourning. Can a second chance rise from the wreckage?
Marlee Foster's life was just getting started. She couldn't wait for the return of her husband from deployment. After all, he'd be there just in time for the birth of their daughter. The welcome home party is full of joy, but on the way home, tragedy strikes…
When Marlee loses her husband and daughter, her friends and family do their best to heal her broken heart. But painful reminders of a future she'll never see haunt her every day in the small town. Her only hope at a second chance is to leave it all behind…
As she sets out on a soul-searching adventure, the mourning widow wonders if the wilderness will give her hope for a brighter future or if she'll forever be chained to a devastating past. During her journey, Marlee is about to learn that love has a funny way of coming back to those who need it the most…
The Flight of Hope is a heart-wrenching contemporary romance in the vein of Nicholas Sparks. If you like emotional journeys, strong-willed heroines, and second chance romances, then you'll love HJ Bellus' touching tale.



HJ Bellus is a small town girl who loves the art of storytelling. When not making readers laugh or cry, she's a part-time livestock wrangler that can be found in the middle of Idaho, shotgunning a beer while listening to some Miranda Lambert on her Beats and rocking out in her boots.



Lacy lives the life of a full time wife, mother and household manager. Needing a temporary escape from time to time Lacy returned back to her first love – reading! After devouring everything she could get her hands on she thought, -what if she could mix her love of performance and literature in a professional capacity? Once getting involved in the world of book narration she quickly became hooked and when not with her family you can find her in her studio working hard to grow in her own storytelling abilities.

This is one emotional book, from start to end and it kept me listening until the end. Marlee's life has known happiness for a short while only, but then everything shifts. She has married her first boyfriend and childhood best friend. Their relationship has been perfect!
I would talk about the story, but the focus is on Marlee's life and how she faced all the challenges she encountered. She faced the loss of her first child and has prepared herself mentally for never having a child. However, when this happens, tragedy also comes and takes away her most treasured possessions.  And then she collapses. We see a person fighting alcohol, fighting life and finally, trying to start over. She sees the world with different eyes. When she meets Jed and his family, her mentality is completely different. She starts to enjoy different things and remembers as well her passion.
She knows that time is now precious and will make the most of it with her new family, always keeping close to her heart the memory of her loved ones. I see "The Flight of Hope" as a story about never giving up on living, facing the pain and having the courage to love again. The writing is beautiful and the characters as well developed. The author has done a great job presenting Marlee's turmoil and pain, but as well her battle with alcohol and with her suicidal tendencies.
The narration was also great. Whenever I listened to books narrated by Lacy Laurel, I always heard certain inflation or a rounded intonation if I put it like that. But in this story, she really did an amazing job. I wonder if she cried when reading this book J Her interpretation of male characters is great as always.
So this is definitely a great book, although I would not recommend it to people suffering from depression or anxiety, as this will probably accentuate them. I loved every page, I cried and learned to laugh again together with the main character. I hope you will enjoy it too! Five stars, no doubt!
I received this audiobook as part of my participation in a blog tour with Audiobookworm Promotions. The tour is being sponsored by Lacy Laurel. The gifting of this audiobook did not affect my opinion of it.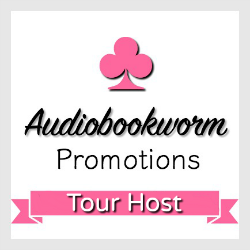 ➜Sign up as a host here