Author: Vicky Loebel
Narrators: Emily Beresford
Length: 5 hours 6 minutes
Series: Brides of Paradise, Book One
Publisher: Pentachronistic Press
Released: Nov. 28, 2017
Genre: Contemporary Romance


When Anna Williams lands a spot on the Vacation Bride reality show, she's hoping to give her sick father a break from the Milwaukee winter, not win a rich husband. Which is good, because the hunky maintenance man whose broad shoulders and clear blue eyes have caught her attention is neither rich nor part of the contest, is he?

Chris Andersen was a disinherited resort brat until his uncle's family crashed their private helicopter during an argument over money. Now Chris is a secret billionaire, determined to make the Paradise Resort a success on its own. To pay for improvements, he's hosting his cousin's Internet reality series, Vacation Bride, a show where women compete to win a rich husband. The women are silly and the show's a lot of work, but the publicity seems worth it. At least until Chris finds out he may be entering the contest himself as first prize.





Vicky Loebel began her professional life as a systems programmer for NASA and moved through successively more challenging careers before settling in as a writer of tightly-plotted, romantic fiction. She lives on the slopes of Mt. Lemmon, AZ with her sister, three dogs, a rotating assortment of children, and a husband who has the patience of a saint.
Emily Beresford is a professional audiobook narrator who is a nerd for books, no matter the genre. In 2013 she was nominated for an Audie Award and received an Earphones Award from AudioFile magazine, for her work on the Multi-Voice title October Mourning. She lives in Michigan with her wonderful husband, and two amazing children.

Yes! I loved "Vacation Bride" and it truly felt like a vacation. A short one, but still I have spent some amazing 5 hours. Set in an exquisite environment, the reality show that should provide a billionaire with a bride turns into a beautiful story behind the scenes.
Our main characters meet without knowing much about one another and they have a beautiful first date sharing personal things. But they both avoid the most important items: she competes for another man's heart and he is not a simple maintenance guy.
Anna Williams is only interested in offering her father a vacation at the Paradise Resort and her participation in the reality show offered her a free ticket. Meeting Chris Andersen was an amazing bonus. To her surprise, Chris is the one she has to impress (together with the internet audience) in order to stay at the resort. Chris is ambitious and hard-working. Yes, he may have a fortune but does not want to use that amount. He has created a great business from the Paradise Resort and wants to keep it profitable. He hates the cameras, he doesn't like the attention and he's not willing to pick just any girl as a winner. Marriage is out of the question.
I don't want to tell you the entire story, but Anna and Chris have an honest relationship after all the misunderstandings are cleared. She is innocent and kind and wants nothing to do with the women competing in the show. He wants to help his cousin by taking his spot in "Vacation Bright", but does not want to risk his relationship with Anna. They are beautiful and strong together.
The author has captured very well the ugly side of Media, where producers are just interested in the audience, focused on intrigue and scandal. I did not like the relationship between Bobby and Chris's cousin. He could have taken a stand, or at least legal actions, just do something. I think this ruined a bit the story for me. The narration was great! Emily Beresford did an amazing job with all the voices and her participation had a significant contribution to the beautiful experience that was "Vacation Bride".
So 4 stars and my congratulations to the author and narrator for this lovely audiobook J Happy Listening J
I received this audiobook as part of my participation in a blog tour with Audiobookworm Promotions. The tour is being sponsored by Vicky Loebel. The gifting of this audiobook did not affect my opinion of it.

Vacation Bride Giveaway: $25 Starbucks Gift Card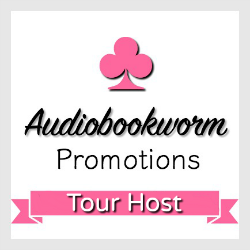 ➜Sign up as a host here