Author: Stacy Kestwick
Narrators: Stephen Dexter, Tracy Marks
Length: 9 hours 5 minutes
Publisher: Stacy Kestwick
Released: Dec. 4, 2017
Genre: Contemporary Romance


Traditions are important. Especially in the South. College football. Rivalries. Tailgating. Halftime shows. Some things just don't change. Until Reese Holland shows up with her long legs and no-bullshit attitude to audition for the prestigious all-male Rodner University snare line. It doesn't matter how much hazing she has to endure from Laird Bronson, with his narrowed green eyes and arrogant smirk. She wants that damn spot, and she's more than good enough to earn it. She expects there to be tension. Even friction. But not sparks hot enough to burn the entire campus down.





USA Today bestseller Stacy Kestwick is a Southern girl who firmly believes mornings should be outlawed. Her perfect day would include puppies, carbohydrates, and lounging on a hammock with a good book. No adulting, cleaning, or bacon allowed.

Tracy Marks has been acting onstage and onscreen since she was 12, and has been narrating audiobooks for 4 years. She lives in Chicago with her boyfriend and adorable dog, and considers herself very lucky to have an excuse to stay indoors in her toasty little booth during the cold winter months. Bringing heart, heat, vulnerability, and humor to her work, she has a passion for bringing love stories to life.
Stephen always wanted to be an audiobook narrator. As someone who never liked the whole "reading silently" thing, and has had a lifelong penchant for performing and flair for the dramatic, it was inevitable that he would be doing this for a living. With dozens of titles to his credit, a majority of them steamy romance novels, he has had the pleasure of voicing characters from the Great Plains of Texas, the bayous of Louisiana, the streets of South Boston, the dungeons of a vampire's castle, the deserts of Mars, and everything in between. It has been an honor to bring such amazing stories by Penny Reid (Marriage Of Inconvenience), Krista & Becca Ritchie (Hothouse Flower), Lex Martin (Shameless), Mia Sheridan (Kyland), and so many more incredibly talented authors, to life. Be sure to check him out on social media, Audible.com, ACX.com, and at http://www.stephendexter.com. SAG-AFTRA/AEA. Happy listening!
I liked "Drumline" and I liked it quite a lot! There are several aspects that the author highlighted very well in the story and there were several instances when Reese really was an inspiration. I was surprised to see that this is Stacy Kestwick's debut novel, because she did a great job!
I won't get into the plot, as you can read the blurb above and there are some items I'd like to point out. We have a girl going into male territory. And she is not giving up without a fight. I liked her strength and her desire to succeed where only few girls have managed. She works twice as hard, she does not give into bullying, even when her opponent is 5 times more built than her.
Cancer. Regarded from all perspectives, this is the most painful item in this book, for all involved. It destroys, it takes away, it is a source of strength and fear. We have a cancer survivor, a family affected by loss because of it and cancer patients – innocent and pure. The way it was included and analyzed from all perspectives is fabulous! The author captured the emotions so good, without losing the focus of our story.
A love that builds gradually, a relationship that should not happen, starts between Reese and Laird. She wants in, on her own merits, he is the captain. He is not allowed to be easy on her. But one cannot go against faith and heart. They are so good together, both frail and strong in the same time. I cannot but love them.
The narration was also great. Stephen Dexter and Tracy Marks formed a great team and their performance was up to my expectations. I think that the audio version is more authentic with their narration as they transposed those feelings in the right way.
I do hope my arguments have convinced you, at least in a small part, to give "Drumline" a chance. Stacy Kestwick proves her talent beyond a doubt in my opinion. I was captured by her story, her characters and all the competition. One has to be strong to succeed, in a game of football, to join a team or to face an illness. Thank you for this book!
I received this audiobook as part of my participation in a blog tour with Audiobookworm Promotions. The tour is being sponsored by Stacy Kestwick. The gifting of this audiobook did not affect my opinion of it.

Drumline Giveaway: $25 Amazon Gift Card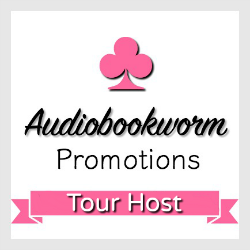 ➜Sign up as a host here