Author: Chris Patchell
Narrators: Lisa Stathoplos, Corey Gagne
Series: The Holt Foundation Stories, Book 1
Length: 14 hours 5 minutes
Publisher: Audible Studios
Released: Sep. 27, 2017
Genre: Suspense, Thriller


Marissa Rooney stands in her daughter's empty dorm room, a half-used vial of insulin clutched in her trembling hand. Brooke has been missing for days. Her roommate hasn't seen her since that night in the bar. And if Marissa has Brooke's insulin, it means that Brooke does not.

But Marissa isn't alone in her terror. A phantom from her past is lurking in the shadows, waiting in the night, and holding her family captive…in the dark.



Chris Patchell is the bestselling author of In the Dark, Dark Harvest, and the Indie Reader Discovery Award winning novel Deadly Lies. Having recently left her long-time career in tech to pursue her passion for writing full-time, Chris pens gritty suspense novels set in the Pacific Northwest, where she lives with her family and two neurotic dogs.

Lisa Stathoplos has been a professional actor working onstage, in film and commercial VO work for many years as well as narrating books and performing in Audiodramas for Audible.com and Hachette Audio. Most recently, Lisa played Nina Locke in Joe Hill and Gabriel Rodriguez' epic multiple Audie award-winning 13-hour audio drama of their wildly popular graphic novel LOCKE AND KEY produced by Pocket Universe Productions' AudioComics division and Finalrune Productions for Audible Studios.


Corey Gagne is an audiobook narrator, stage, and voice actor from Portland, Maine. Corey trained at Mountview Theater Conservatory (now Mountview Academy) in London, England, and has appeared on stage in London, New York, Philadelphia, Austin, and Portland. His work as an audiobook narrator includes Inci by Mike Resnick and Tina Gower, The Constable's Tale by Donald Smith, the Sin du Jour series by Matt Wallace, The Goblin Crown by Robert Hewitt Wolfe, The Twilight of the Gods Series by Christopher G. Nuttall, The Black Wolves of Boston by Wen Spencer, The Builders by Daniel Polanski, and Dark Harvest and In the Dark by Chris Patchell.

"In The Dark" has kept me reading and reading (sorry, "listening and listening") until late in the night. It is a great story that combines family, romance and … kidnaping in a beautiful way. The author has a way of attracting the reader with how she builds the phrases and how each chapter is structured.
When Marissa's daughter goes missing, she knows something is not right. As a mother, she has done so much to keep her family intact and in the process, has made some mistakes as well. But we are all human, aren't we? She finds an ally in Seth Crawford, a man with his own issues, but willing to hear her story and investigate a possible abduction. When this becomes clear, they start a battle against a kidnaper and time. At some point, the story becomes more about the second aspect and that surprised me in a good way.
I loved Marissa's character. She is a woman who's been tried by life and had to make the best she could for her children. She is not perfect, she is not necessarily strong and in a fight that seems unbearable, she finds strength in Seth. She was the highlight of this book. The other characters are great as well, don't get me wrong! Chris Patchell has a great way with words, in creating vivid descriptions, tension building and emotions. So all is well here!
 The narration was not bad, even if I think the narrators could have taken more advantage of the emotions the characters had. But it was a clear reading, at the right pace. Good, but could have been a little bit better. Also, I think the romance could have been started a bit later in the book.
All in all, it was a very enjoyable audiobook that captured my attention. Can't wait for the second book in the series J Happy Reading! Sorry, Happy Listening!
I received this audiobook as part of my participation in a blog tour with Audiobookworm Promotions. The tour is being sponsored by Chris Patchell. The gifting of this audiobook did not affect my opinion of it.

The Holt Foundation Stories Giveaway: Amazon Echo Dot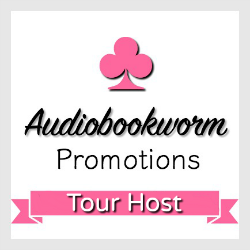 ➜Sign up as a host here