Author: D.T. Dyllin
Narrator: Ashley Holt
Length: 6 hours 52 minutes
Series: Starblind, Book 2
Publisher: Tik Tok Press
Released: Jul. 10, 2017
Genre: Romantic Science Fiction


Tamzea, a Mazatimz healer, found a home as part of the crew on the starship The Pittsburgh. But when a part of her past crashes into her present, she's forced to face the uncertainty of her future. Dragged back to a place Tamzea had hoped to leave in her worst nightmares, she discovers Eron, a man she thought dead. Determined to save each other, Tamzea and Eron must find a way to work together, despite their torrid past. With partial truths, and political games, will Tamzea be able to fix Eron, or is he too broken for even her to heal?



D.T. Dyllin is a bestselling author who writes paranormal, sci-fi, and contemporary romance. Basically, anything with a love story is her kryptonite. Her obsession with affairs-of-the-heart is what first drove her to begin twisting her own tales of scorching romance.

D.T. was born and raised in Pittsburgh, Pennsylvania. (Black & Gold for life, baby!) She now lives in Raleigh, North Carolina with her husband, and two spoiled German Shepherds.

Former NPR PBS FM radio host/announcer in a major media market, with a warm mezzo female voice. I have a background in opera and can present in English, Italian, German, French, Latin. With a background in the performing arts and opera, I can sing as well as do some accents.

Home includes a husband shaped person, 2 cats, volunteerism and an active online gaming presence.
No audiobook genre is taboo, which makes for very interesting dinner table discussion.

Member, Audio Producers Association

"Starblind" continues with book 2 in a different manner than expected. I know that things settled down a little after book 1, but I was not expecting to have the story of another crew member. "Parallax" has Tamzea in the center of attention. Her story begins once she is reunited with her long lost love. A lot of unexpected things happen. This book has more twists than the first one, which made me like it more.
Since we are already familiar with the world building, the author is now more focused on character development. We see different angles of the main characters from the previous book and more interactions between them. I loved the love story between Tamzea and Eron and I think it had more depths and a lot more complications. It was true that the series gets better and better J
The writing is as exceptional as in "Starblind" and I believe the author did a lot more exploration in that area. She plied more with the worlds, with descriptions and places. I loved it !
I am keeping my opinion in regards to the narration. As I mentioned in my review for book 1, I think Ashley Holt overdid it in her intonation and used a very slow reading pace. I could adjust the reading speed on my app, but the voice inflexions were still there.
With all my comments and adding he plot development and narration, I have to keep my 4 star rating. I loved it, can't wait for the next one. I wonder who's story will we get this time. I haven't checked yet J
I received this audiobook as part of my participation in a blog tour with Audiobookworm Promotions. This tour is being sponsored by Spectrum Audiobooks. The gifting of this audiobook did not affect my opinion of it.

Starblind Series Giveaway: Amazon Echo Dot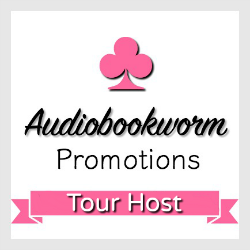 ➜Sign up as a host here