Author: D.T. Dyllin
Narrator: Ashley Holt
Length: 6 hours 59 minutes
Series: Starblind, Book 3
Publisher: Tik Tok Press
Released: Dec. 20, 2017
Genre: Romantic Science Fiction


Taken captive, experimented on, and rescued by a mysterious bounty hunter…all things Zula, The Pittsburgh's second-in command, didn't have on her to-do list. She isn't worried though. After all, as a Galvraron, she has her superior logic to rely on. At least she did….

Suddenly Zula finds her cognitive skills compromised by a device that puts her emotions in control, turning her entire world upside down. Add in the fact that she's forced to spend time with a man from her past, and soon Zula finds herself wondering: How does one fight adversaries such as love and lust? And does she really want to?



D.T. Dyllin is a bestselling author who writes paranormal, sci-fi, and contemporary romance. Basically, anything with a love story is her kryptonite. Her obsession with affairs-of-the-heart is what first drove her to begin twisting her own tales of scorching romance.

D.T. was born and raised in Pittsburgh, Pennsylvania. (Black & Gold for life, baby!) She now lives in Raleigh, North Carolina with her husband, and two spoiled German Shepherds.

Former NPR PBS FM radio host/announcer in a major media market, with a warm mezzo female voice. I have a background in opera and can present in English, Italian, German, French, Latin. With a background in the performing arts and opera, I can sing as well as do some accents.

Home includes a husband shaped person, 2 cats, volunteerism and an active online gaming presence.
No audiobook genre is taboo, which makes for very interesting dinner table discussion.

Member, Audio Producers Association

"Flux" is a beautiful addition to the "Starblind" series. It brings Zula's story, which I was really cheering for by the way! With her perfect mind, perfect logic, flawless behavior, she makes a perfect main character. Definitely, the series gets better and better, which is what I've mentioned in my review for book number 2. It was that god that I even went past my not liking the narration that much.
Now, Zula finds herself stripped from her most treasured possession: the control of her mind. She loses that inner strength that during the first books was so evident. The experiments she was under left her broken and scared, not of enemies she could see, but the ones building inside her: emotions. Besides the fact that she is funny and witty, we witness her internal struggles to maintain control. And that was done so well by the author.
Her relationship with Kade is as an unknown of a territory that the Galvrarons are to us humans. She doesn't know how to fight him, how to feel around him. She simply does not have the mental capacity to understand what is happening. And that is scary. They are something else entirely and I love them.
Regarding the narration, while I am still not comfortable enough with Ashley Holt's intonation, I got used to it during the past two books so I already knew what to expect. But I think she did a great job in capturing Zulu's troubles.
To sum up, this is by far my favorite out of the three books. Zula is such a lovey character and the author did an awesome job with her and Kade. I am really happy I've gone through the series and I am interested to see what other surprises we will receive with Luminosity (Starblind #4). Happy Reading! Oops, Happy Listening!
I received this audiobook as part of my participation in a blog tour with Audiobookworm Promotions. This tour is being sponsored by Spectrum Audiobooks. The gifting of this audiobook did not affect my opinion of it.

Starblind Series Giveaway: Amazon Echo Dot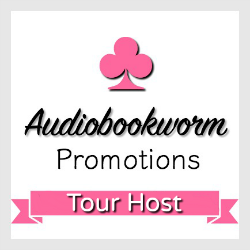 ➜Sign up as a host here