Author: Dan Petrosini
Narrator: Joseph Kidawski
Length: 8 hours 31 minutes
Publisher: Dan Petrosini
Released: Jan. 25, 2018
Genre: Science Fiction


In the face of a death-defying power, what's the "new normal"?

Like all reporters, Jack longs for a breaking story but is stuck writing obituaries for a small-town rag. As his frustration mounts, it hits him that no one has died in over three days. Jack's odd observation becomes something far stranger when he connects a meteorite to the bizarre phenomenon.

Seizing the opportunity, Jack breaks the story and after a struggle to control the meteorite's power is resolved, a swelling population begins to create havoc. With the survival of the human race hanging in the balance, politicians enact increasingly horrific measures and desperate citizens take matters into their own hands.

Jack's in a position to not just report the news, but change it, and his decisions and observations creates an epic thriller that pits the potential of human immortality against a force designed to change – or obliterate – humanity itself.

Only one man might stand in its way … the man buried in the obits department.

The Final Enemy is a story of social disintegration as well as a saga of survival. Secret plans, starvation, suicide, and a series of events that spiral the human race into a desperate survival mode evolve from a seemingly singular event and leads to a fast-paced action story that delights with its penchant for the unexpected.

In the Matthew Mather and A.G. Riddle tradition, The Final Enemy is a gripping blend of thriller and science fiction that will prove hard to put down.




Dan has his own view of the world and culture or lack thereof. He is passionate in his belief that people can realize their dreams if they focus and take action. He actively encourages people to break out and live a the life they want.
Married with two daughters and a needy Maltese, Dan splits his time between South West Florida and New York City, where he was born. Dan teaches at local colleges, writes novels and plays the tenor saxophone in a couple of jazz bands. He also drinks way too much wine.
Dan has an active blog at http://danpetrosini.com and has written seven novels.

Joseph Kidawski is a Boston born actor, musician and artist based in Los Angeles California. He is a lover of audiobooks and it is his distinct pleasure to be a part of the worldwide community of narrators. Find out more about Joseph at http://www.kidawski.com

I am all in for movies that speak of an imminent danger or the end of the world.  I am no fatalist; I just like to see how others view these aspects. Same goes for all that is space related. So I went all into this book. The result? I liked, but I was expecting so much more.
"The Final Enemy" is bringing not only a story about a big meteorite that falls on our planet and it consequences, but as well themes like population growth and all its effects on the environment, human nature and manipulation. All these are great items that are very well weaved into the plot. The characters in this book come from different social areas. Some are journalists that identify an opportunity to push up their career, politicians that want to secure their next elections, scientists that want to study the foreign object and some are just simple people who just want a better life. The author captured how a major event could affect the lives of many, but mainly how in the end human kind is following its own interest.
The beginning is slow and more focused of the main character's spot in the middle of the action. To be honest, I didn't like Jack that much. He is a journalist but I think he does not understand the social impact of the news he is sharing. The authorities' involvement in this event was not very believable.  If a meteorite were to fall on Earth with such powers, I am sure they would be the first to know and put a stop to all the commotion very early. So I think this part could have been worked a little better.
From the writing perspective, there are parts that felt redundant and when multiple people were having a conversation, it felt odd the "he said… and the other said, and he said, and she said" etc. Narration was good, Joseph Kidawski did a great job with voice acting and differentiating between characters.
All in all, I liked all the concepts that were added to the story and the complexity of the themes discussed, but I was expecting more attention to details and more developed characters. I still think this is a very interesting and great book, which is why my rating is 3.5 stars. Hope you'll enjoy it and happy reading/listening!
I received this audiobook as part of my participation in a blog tour with Audiobookworm Promotions. The tour is being sponsored by Dan Petrosini. The gifting of this audiobook did not affect my opinion of it.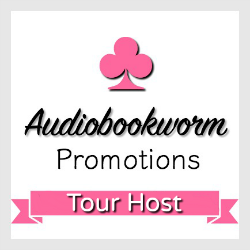 ➜Sign up as a host here