Author: Sofie Darling
Narrator: Mary Sarah
Length: 9 hours
Publisher: Sofie Darling
Released: Dec. 13, 2017
Genre: Historical Romance


Paris, September 1824

Lord Nicholas Asquith needs his wife. Too bad he broke her heart ten years ago.

Can he resist a second chance at the love he lost?

When Mariana catches the eye of the man at the center of an assassination plot, Nick puts aside their painful past and enlists her to obtain information by any means necessary, even if it means seducing the enemy agent.

Even if the thought makes his blood boil.

Only by keeping his distance from Mariana these last ten years was he able to pretend indifference to her. With every moment spent with her, he feels his tightly held control slipping.

Can she trust the spy who broke her heart?

Mariana spent the last decade forgetting Nick. Now she has the chance to best him at his own game, an opportunity she can't resist, even as her view of him begins to shift. Increasingly, she wants nothing more than to seduce her own husband.

It's only a matter of time before mad passion ignites, a passion never convincingly extinguished. A passion that insists on surrendering to the yearning of the flesh and, quite possibly, of the heart.




Sofie spent much of her twenties raising two boys and reading every book she could get her hands on. Once she realized that she was no longer satisfied with simply reading the books she loved, that she must write them, too, she decided to finish her degree and embark on a writing career. Mr. Darling and the boys gave her their wholehearted blessing.
When she's not writing heroes who make her swoon, she runs a marathon in a different state every year, visits crumbling medieval castles whenever she gets a chance, and enjoys a slightly codependent relationship with her beagle, Bosco.

Voice Arts Nominee (2016), Mary Sarah is known for her subtle, yet powerfully, evocative performances. With a penchant for dialects and love of culture, Sarah has spanned the globe and time, working with rich characters set across genres of the classics, history, romance, poetry and children's literature. Relz Reviewz states in reference to her rendering of Tamara Leigh's 'The Unveiling,' that," her mellifluous tones, excellent voicing of emotions in dialogue and varied and accurate accents of both male and female make her a pure joy to listen to," while her narration of "A Lady in the Smoke," was cited as, "masterly." Classically trained at The Riverside Shakespeare Academy and The Royal Shakespeare Company, Sarah loves to get to the heart of a word in order to release its' power and finds great comfort in the beauty of stories to transform and speak to us.

This is one intense book, from more than one perspective. We have a lot of action, we have secrets, spies and a lot of intense passion. Add to that a great narration and you have a great audiobook.
Mariana and Nicked shared a marriage based on love and attraction. All was well until her husband disappears and is presumed dead. Her love for him however has not died and, to her surprise, she finds out the man that has stolen her heart at a young age is alive and well, even working a job. So now she agrees to help him obtain information in regards to an assassination plot. As the man who has details on the matter seems to have set his eyes on Mariana, things should go easy.
However, she is not a spy, nor a seductress. Nick teaches her the art of deceive, all the while trying to maintain his heart in check. Being away from his wife for so long has not dulled his emotions either. Now they have to solve a mystery and their relationship as well. The question is: can things go back to normal? Is he able to offer her the family she longs for?
A combination of love, lust and secrets is perfect for a book. Even if I was expecting many more complications, I did enjoy my time with this book. The narration was amazing! Mary Sarah's interpretation of the French accent was impeccable and her smooth voice did transmit that seductive aspect of the story. I loved her so so much!
Two main characters with an agenda, a determined woman, a husband trying to stand by his work and family in the same time, this is what we have in "Three Lessons in Seduction". As mentioned, I wanted things to be even more complicated, because the story has potential for so much more, but even with my wishes of more, I cannot give less than 4 stars. Enjoy! (I'm sure you will)
I received this audiobook as part of my participation in a blog tour with Audiobookworm Promotions. The tour is being sponsored by Sofie Darling. The gifting of this audiobook did not affect my opinion of it.

Three Lessons in Seduction Giveaway: $50 Amazon Gift Card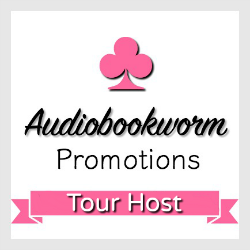 ➜Sign up as a host here