Author: Gwen Mitchell
Narrator: Daniela Acitelli
Length: 11 hours 52 minutes
Series: Skydancer, Book 1
Publisher: T. M. Miller
Released: Feb. 14, 2018
Genre: Urban Fantasy


Briana turned her back on her magical heritage to chase her dream career, but now a spell cast with her grandmother's dying breath has unleashed her dormant Oracle powers, drawing her into a world of dangerous power and cryptic prophecy.

Thanks to her family's tragic history, Bri is a pariah in her hometown, and the only other witches she can turn to are her childhood best friend, Astrid, and Kean–her first love. They are convinced it's destiny that has reunited them and determined to help break the curse on Bri's bloodline.

But the longer she stays, the more people die.

Tortured by chaotic visions of fire and blood, Bri must harness her magic and navigate the dangerous waters of her past–and past life–to unmask the evil hunting in her shadow before it kills the only loved ones she has left.

Because she has a secret of her own. One she already died to protect. And as memories of her ancient rival become clear, so does her grim future…unless she can change it.




Gwen is living her happily ever after in Seattle. She's a nature lover, science geek, and spiritual explorer, with a nose for well-aged tequila and a pin-up fashion obsession. When not chasing butterflies to hidden waterfalls or cavorting through the Emerald City, she can be found in a cozy chair reading, or brewing up tales of magic, adventure, and romance.

Daniela Acitelli is a professional Audiobook Narrator / Voice Over Artist with a Theatre, Film, Cabaret and Circus background. You can find her on Audible, Itunes and Amazon. She also narrates for the RNIB, SpokenRealms, Deyan and Whitehouse publishing.

Daniela is an actress with a stage background trained in the Meisner technique and Lee Strasberg's "Method" acting. She has a background in and a great love of Cabaret and Vaudeville including the old time concert saloon, minstrelsy, circus acts, dime museums, and literary American burlesque shows.

Ok, everybody thinks this book is great. Well, everybody is right! This is one crazy story of witches and daemons and spells and all that witchy jazz, topped with a beautiful narration. So what's not to like?
The book begins with Briana trying to fight off her calling and with her struggle to maintain the normal life she has built. She feels the pull towards something different, outside the mundane, but she refuses to get into that. When her family is killed in an accident, she cannot deny it any longer. Unfortunate events bring her together with her first love and her best friend, trying to figure out who's invoking a curse on her family.
The author did such a great job not only with the world building, but as well the characters and the way the story is structured. Starting with the last argument, we have present and past lives weaved between the chapters. And that only makes the story interesting, as we see how Briana has had to fight in all her past existence as well. We have two worlds, the present times and the past. Both exceptionally built, hide a secret that really blew my mind.
As for the characters, at one point I was thinking "why is she so scared? Come on, you're a witch, do what you do. Cast a spell or something!!". But she develops as the story progresses and becomes more powerful and confident in her skills, not without help. Kean (first love and dedicated protector) is strong and determined to keep her safe and not losing her. The romance between them does not occupy the center of the plot but is there. And when it comes to light, it is heartwarming. It is that kind of romance that leaves you breathless after 5 lines. The other characters were impressive as well, but I feel that at some point, the action is focused on Briana and how she becomes mature enough to "handle" her enemies.
The narration was fabulous to say the least. Daniela Acitelli's main attribute is being able to capture emotions in the words she speaks. I could feel the desperation, the torment, the pain and love and determination. I could understand the emotions so well and that only helped in enhancing my experience with this book.
Without further prolonging, I cannot but give 5 out of 5 stars to Skydancer Book 1 and hope to read more of these characters soon! Enjoy J
I received this audiobook as part of my participation in a blog tour with Audiobookworm Promotions. The tour is being sponsored by Gwen Mitchell. The gifting of this audiobook did not affect my opinion of it.

Rain of Ash Giveaway: $25 Amazon Gift Card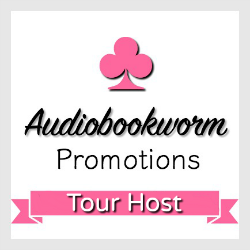 ➜Sign up as a host here