Author: Candace Blevins
Narrator: Noah Michael Levine
Length: 2 hours 57 minutes
Publisher: Candace Blevins
Released: Feb. 21, 2018
Genre: Paranormal Romance


Bethany has joked for years that if she ever settles down, it'll be with a harem of men, only it isn't a joke anymore.

Mac is a new werewolf, and still must be watched at every moment to be sure he stays in control. His kink has always been ménage, so when he overhears the beautiful redhead at the bar wanting to take on not only him, but also the werewolf and wereleopard chaperoning his night out… he has to convince them to let him take her home. He might not be trustworthy with a human woman alone, yet, but with two powerful shapeshifters in bed with them, what could go wrong?

Previously published in the Every Which Way Anthology.




Candace Blevins has published more than thirty books. She lives with her husband of twenty years and their two daughters. When not working or driving young teens all over the place, she can be found reading, writing, meditating, or swimming. The family's beloved, goofy, retired racing greyhound is usually at her side as she writes, quietly keeping her company.

Candace writes Urban Fantasy, Paranormal Romance, Contemporary BDSM Romance, and a kick-ass Motorcycle Club series.

Her urban fantasy series, Only Human, gives us a world where weredragons, werewolves, werelions, three different species of vampires, and a variety of other mythological beings exist.

Candace's two paranormal romance series, The Chattanooga Supernaturals and The Rolling Thunder Motorcycle Club, are both sister series to the Only Human series, and give some secondary characters their happily ever after.

Her contemporary Safeword series gives us characters who happen to have some extreme kinks. Relationships can be difficult enough without throwing power exchange into the mix, and her books show characters who care enough about each other to fight to make the relationship work. Each couple in the Safeword series gives the reader a different take on the lifestyle.

You can visit Candace on the web at candaceblevins.com and feel free to friend her on Facebook at facebook.com/candacesblevins and Goodreads at
goodreads.com/CandaceBlevins.
You can also join facebook.com/groups/CandacesKinksters to get sneak peeks into what she's writing now, images that inspire her, and the occasional juicy teaser.

Stay up to date on Candace's newest releases, and get exclusive excerpts by joining her mailing list at http://bit.ly/cb-new-release

Noah Michael Levine is an Audie Award-Winning audiobook narrator and producer living in beautiful Nyack, NY. His over 180 titles include almost every genre. While he loves his work completely – and collaborating with all kinds of different authors, he does not love writing about himself in the third person.

This book was a bit of a revelation for me. I am not a fan of this kind of relationship, where more than 2 people are involved. I cannot wield my mind to understand it and probably that's why. It's a "me" thing, nothing related to the book. So I will try to set aside my personal preferences (since I have chosen to read and review this book, more like listen and review).
Bethany has her own fantasies when it comes to a relationship. She has a more than uncommon preference. She wants to be shared. She wants more than one guy to be there for her. So when 2 werewolves and a werepanther are ready to offer her what she desires, she starts to wonder if it's maybe too much too soon. But it's 3 against one and boys have a tendency to win girls over.
The book centers around her getting accustomed to this new thing she has with the 3 men and around Mac, who still has trouble controlling her wolf. I liked how the author created different personalities, guys that want and like different things in the intimate moments. Bethany is determined to push herself, to break those limits to be the woman they need. But her struggle to understand what all this means is what really made me like this book. The author did a great job with that.
The beginning was not to my liking as it gave me the impression that things move too fast. She quickly got the guys, she quickly found out what they really are and they were all in for a relationship – one that she was not ready for. So here I think it all went too quick for my end.
The narration was not bad at all. This is not my first book narrated by Noah Michael Levine and his voice is smooth and somehow good for some scenes. I had some issues sometimes to differentiate between the male characters, but other than this, no complaints.
All in all, it was a good and quick read. I would recommend it if you are into this kind of relationship. Note that the level of sexual details is pretty high so be prepared! Enjoy J
I received this audiobook as part of my participation in a blog tour with Audiobookworm Promotions. The tour is being sponsored by Candace Blevins. The gifting of this audiobook did not affect my opinion of it.

Acceptable Risk Giveaway: $30 Amazon Gift Card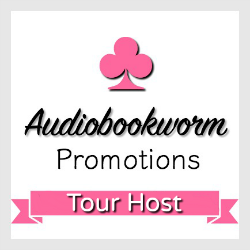 ➜Sign up as a host here