Author: Nicola R. White
Narrator: Carol Ayon
Length: 7 hours 25 minutes
Series: Original Sin, Book 1
Publisher: Strange Roads Press
Released: Oct. 31, 2017
Genre: Romantic Suspense


Magdalene is a mob-connected madam. Tommy Flynn is the hitman who loves her. And when they're framed for the murder of a rival crime boss's favorite son, Magdalene fears the sins of her past have come back to haunt her.

After spending half a lifetime in a seamy underworld where love is for sale and men worship at the altar of sex and greed, claiming sanctuary in a cathedral is the last thing she wants to do – and the only chance she has to find out who set her up. With all clues pointing to Magdalene's ex-lover, a working girl called Lola, the legendary madam is reluctant to trust Tommy, a smooth-talking hired gun, and risk being burned again.

But as time grows short and secrets are revealed, Magdalene will have to look into the dark places inside herself if she is to catch a killer and survive with body and soul intact. In the corrupt city of Crawley, Massachusetts, passion, crime, and religion collide in this steamy, neo-noir romantic thriller.



Nicola R. White comes from a small city on the east coast of Canada where ghost stories and superstitions abound. Although she is a lawyer by profession, her passion is reading and writing fiction. In 2016, Nicola's debut novel, Fury's Kiss, won the $10,000 Kobo Emerging Writer Prize in Romance. She is currently producing her first graphic novel.

Nicola is a member of Romance Writers of America and Romance Writers of Atlantic Canada. She is a frequent guest and speaker at literary events such as Word on the Street and Hal-Con, the largest sci fi/fantasy convention east of Montreal.

I may not be your typical audiobook narrator, but then again maybe I am. I have a passion for acting and received my undergraduate degree in Theatre Arts. I went on to pursue a graduate degree in Elementary Education and found that my favorite part of the day was during Read Aloud time. It was during that time that I could bring stories to life for my students and help them get caught up in a story. I loved to hear them say, "Keep going!" when it was time to stop. I continue to act in local stage productions but hope to begin a long career in audio book narration.

Every time I read a dark romance book (or listen to, in this case) I am remembered how different this is to the other Romance subgenres. This is not a book for everyone. Well, actually this is not a genre for everyone. I have some difficulties with it, but I liked the story in "Man's Ruin". There were some issues I was not convinced by, but it kept my interest and it made me feel part of that environment.
On one side, we have Magdalene, forced to sell her body in order to survive life on the streets. Soon she becomes in charge of a brothel and a trusted member of a criminal organization. On the other we have Tommy Flynn, who's had to work as a hitman for the same organization. Both know what life in the underworld is like and probably the thing that gives them some form of hope is the love they have for one another. Once they are framed for murder, things get complicated. And believe me, in this book, the complications, the web of corruption, of murder and betrayal are so far beyond what you would have imagined. Both characters have a complicated past that will come back for them.
The relationship between Magdalene and Tommy is based on trust from the first moment they act on the attraction. They know very well what the other does, they tell each other things (we will soon find out that Tommy is the only one who knows her real name) and they don't expect love in their ugly environment. While Tommy is more firm in his decisions, Magdalene (being a woman…) is not that trustful and has her doubts, which in some scenes I could not understand. That makes them human and flawed. And I liked it.
The narration was not to my liking that much. While Carol Ayon played with the accents in case of our main characters, I had difficulties distinguishing between the other characters. Also, the intonation didn't make me confortable enough, especially in the scenes that were supposed to inspire fear of a more powerful feeling. However, I do appreciate the effort she put in Tommy and Magdalene.
All in all, I enjoyed the story, I enjoyed the complexity of it all. The author spent a lot of time developing the characters, but the plot is very well built as well. I wish some of the parts would have been more explored, even if this would have made a bigger book.  But 3.5 stars go to "Man's Ruin" and I hope you'll enjoy it as well J
I received this audiobook as part of my participation in a blog tour with Audiobookworm Promotions. The tour is being sponsored by Nicola R. White. The gifting of this audiobook did not affect my opinion of it.

Man's Ruin Giveaway: 3-month Audible Membership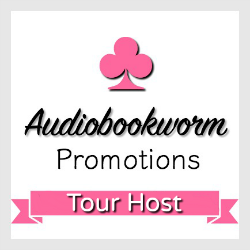 ➜Sign up as a host here