Author
: Nancy Warren
Narrator
: Teri Schnaubelt
Length
: 4 hours 42 minutes
Publisher
: Ambleside Publishing⎮2015
Genre
: Contemporary Romance
Series
: Take A Chance, Book 4
Release date
: Jun. 18, 2015


Every Rose has its thorns….

Rose Chance is a dedicated Portland physician who loves shoes, clothes, and the finer things in life. Her colleagues call her Dr. Vogue, and she won't even look at a man unless he's rich. And preferably titled.

Her colleague, Matt Vasilopolous, is a Greek immigrant made good. He dresses like a schlep, always needs a shave, and doesn't seem to own a comb.

Rose can't stand a man who looks like a tramp. Matt loathes a woman who looks down at him. But when they're thrown together to save a life one day, and find themselves in the same wedding party the next, Rose and Matt can no longer deny the attraction between them.

With an English baronet and his stately home in the offing, though, will Rose choose the man she's dreamed of her whole life or the one her heart craves?

This is the fourth novel in the Take a Chance series of romantic comedies. All the books can be heard independently, but are also connected.



To stay updated on all things Nancy including new releases, recipes and bonus extras please sign up for Nancy Warren's newsletter at nancywarren.net. Nancy's a USA today bestselling author of more than 60 novels. Nancy's originally from Vancouver, Canada but she tends to wander. She currently lives in an 18th century house in Bath, England where she loves to pretend she's Jane Austen, or at least a character in a Jane Austen novel. When she's not writing, she's hiking, skiing, traveling or sipping wine. She's appeared on the front page of the New York Times (when her book, Speed Dating launched Harlequin's NASCAR series), has been a clue in a crossword puzzle (National Post, Canada) and she's been a finalist for the RITA award three times, honored by Romantic Times Magazine and often shares her love of writing in her popular workshops.

Teri Schnaubelt is an award-winning audiobook narrator and actor who has voiced nearly 200 audiobooks as well as many commercials and corporate videos. She mainly works from her home studio in the north Chicago suburbs and keeps in touch with the rest of the world via Facebook, Instagram and Twitter.

I had so much fun listening to this audiobook. I loved it just as much as the other ones from the "Take a Chance" series, just that in case of "Every Rose" I had quite some fun. There were some pretty good lines there that put big smiles on my lips and I found myself enjoying it more than the others, even if I have some small comments in regards to the characters.
This forth book brings us the story of Rose Chance (the doctor) and Matt Vasilopolous (the surgeon). None of them want to become involved with a fellow colleague, but one of them is willing to try. Both are different, but one of them is willing to overlook the differences and adjust to the other's "complains". Their relationship is beautiful and starts… out of the blue I might say.
 Rose has always wanted more than what she had growing up. She wants fancy clothes, fine food and beautiful restaurants. Matt has grown up knowing what it is to struggle for money and he is not ashamed to admit it. That's why Rose seems too arrogant to him. Once they start knowing more about each other, Matt is completely taken by the flawless doctor. Still, is she willing to overlook his profession and his imperfect looks? That's something for you to find out.
As opposed to the other books in the series, Rose is a bit too focused on the material aspect of life and I did not like that very much. Also, things happen to sudden, especially in the end. Also, the reaction Rose has once finding out who her real parents are is treated with less importance than I would have expected.
I cannot complain at all about the narration, it was very much to my liking, the same as in the other books. The narrator managed to change her voice very well, considering the diversity of the characters that could be together in one scene.
To close up, even if there were some items that did not stand well with me, I think the writing and the amount of fun I had listening to "Every Rose" are far more important. So 4.5 stars for the fourth book in the "Take a Chance" series. Enjoy!
I received this audiobook as part of my participation in a blog tour with Audiobookworm Promotions. The tour is being sponsored by Nancy Warren. The gifting of this audiobook did not affect my opinion of it.

Take A Chance Series Giveaway: $25 Amazon Gift Card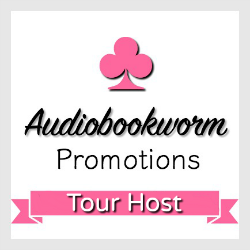 ➜Sign up as a host here