Author: Maggie Hasbrouck
Narrator: Julia Farmer
Length: 10 hours 23 minutes
Publisher: No Bones Studio
Released: Mar. 16, 2018
Genre: Suspense


Smart, surprising, and laced with a distinctly dark edge, Muriel Avenue Sluts is a provocative and ambitious story of suspense, revenge, love, and family ties – all in the most unexpected of places.

Seventeen-year-old Julia Turnbow's mother gets paid to have sex; that's just how it is. When Jules turns 18, she plans to follow in her mother's footsteps and join the exclusive world of Philadelphia's infamous Muriel Avenue Sluts. But before all that happens, she has just one wish – to fall in love.

Just when things seem to be going her way, Jules' world is knocked off its bearings. Her best friend, Anna, reveals that she's being abused by one of Muriel Avenue's gentleman clients. After a routine haircut and shave, Anna's abuser falls to his death from a second-story balcony – and Jules is just one of two people who knows exactly what happened.

To complicate matters, Jules dives head first into a friendship with the daughter of the dead man. Greta's a train wreck: She's charming, unpredictable, and has one too many questions about Muriel Avenue. Then, Jules puts all of Muriel Avenue at risk with an ill-timed slip of the tongue, and she finds herself wanted by the FBI. Running from everything she's ever cared about, all Jules wants is to get back to the people she loves.




Transplanted southerner Maggie Hasbrouck is an artist, an author, and a lover of Ferris wheels. She believes that much of our lives are spent trying to figure out the impossible riddles of love and sex. What better place to bring those issues to the surface than a brothel? Her novel, Muriel Avenue Sluts, is an edgy, coming-of-age story about a seventeen-year-old girl whose mother is a prostitute.
Hasbrouck's large-scale paintings are represented in over 200 public and private collections throughout the world, including those of Sir Elton John, Dennis Quaid, Faith Hill, Courtney Cox, and Jon Bon Jovi.

Proud member of SAG-AFTRA.
 Clients include Kmart, Jack's Pizza, Miller Lite, Eone Time, IRI, NOVA Southeastern University, and Jerdon.
 Provided the voice of Sarita in The Walking Dead: Season 2 video game by Telltale Games.
 Audiobook narrator with over twenty titles available via Audible.
 Voice over training at Act One Studios and Acting Studio Chicago.
 Improv and acting training at The Second City and iO, Chicago.

This book has a very important significance. It not only raises awareness on child molestation but as well on upbringing, with accent on the environment. The author has done a great job showing the good parts and the terrible ones, mixing them in a delicate way and putting together this great book.
The blurb explains quite a lot of the action so I'm not going to do that again for you guys. I will just mention that, while the plot is very intense and things really get complicated, character development, character reactions in different moments is what I liked the most. Everything felt so natural. Jules has been raised in an environment with several moral question marks. We all know places like Muriel Avenue exist around us, we may judge those places, we may not. However, life exists inside those walls and, as we all do in our jobs, those women try to excel at theirs.
Child abuse is a theme that is developed throughout the story. It has different impact on the ones involved but we see how it affect everybody. We have "stand by"-ers and we have people that decide to act, as well as the consequences on these people. On a psychological level, this is great! And it's shocking! There are elements that may shock you, for example: Jules knows in a few months she will sell her body for money. For that to happen, she needs to be though. She needs to attend seduction classes.
But she also wants something nice and pure of her own. Here comes Charlie, the boy she likes. Their relationship stands under "the slut" umbrella. He knows where she lives, he may not touch the subject deeply at first but I saw them as the symbol of "clean". I was very curious to see how they evolve as a couple and how all these elements will affect their relationship (if they manage to have one by the end).
The narration is very beautiful. It has captured emotions like pain, hate, repulsion, gentleness and love. The narrator has differentiated well between characters and I really applaud her work with this audiobook.
All in all, this was a great experience and a very interesting story. I do recommend it with all my heart and I hope you all try it. The interesting concepts, the awareness, the family issues that are combined here are very well presented. It really is a book that will keep you until the very last page/minute! Enjoy J
I received this audiobook as part of my participation in a blog tour with Audiobookworm Promotions. The tour is being sponsored by Maggie Hasbrouck. The gifting of this audiobook did not affect my opinion of it.

Muriel Avenue Sluts Giveaway: $50 Amazon Gift Card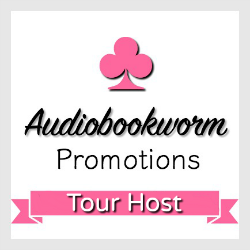 ➜Sign up as a host here