Author
: D.L. Orton
Narrators
: Noah Michael Levine and Erin deWard
Length
: 10 hours 17 minutes
Publisher
: Rocky Mountain Press⎮2015
Genre
: Science Fiction, Romance
Series
: Between Two Evils, Books 1
Release date
: Oct. 7, 2015


If someone took everything you live for, how far would you go to get it back?

When offered a one-way trip to the past, Isabel sacrifices everything for a chance to change the rapidly deteriorating present – and see her murdered lover one last time. When she arrives 20 years in the past, buck naked and mortally wounded, she has 24 hours to convince a stunned but enraptured 19-year-old to change their future. Definitely easier said than done, as success means losing him to a brainy, smart-mouthed bombshell (her younger self), and that's a heart breaker, save the world or not.

This offbeat tale is about falling madly in love when one is too cynical for such things, letting go of pessimism when it's the last life jacket on a sinking ship, and racing against the clock when one doesn't have the proper footwear. It's a coming-of-age story for old fogeys, a how-to-make-love guide for diehard celibates, and a laugh-out-loud tragedy with a hopeful twist.





AWARD-WINNING AUTHOR D. L. ORTON lives in the Rocky Mountains where she and her husband are raising three boys, a golden retriever, two Siberian cats, and an extremely long-lived Triops.

In her spare time, she's building a time machine so that someone can go back and do the laundry.

Noah Michael Levine and Erin deWard are Audie Award-winning narrators who have recorded over 40 titles together. They are passionate about acting and, in particular, the medium of audiobooks. The two love working together and have a ridiculous amount of fun playing off each other in the recording booth. Erin is deeply involved in the Audio Description community, translating visual images in media into aural pictures for people with low or no vision. She also performs Shakespearean text with The Strange Bedfellow actors troupe. Noah is a recovering 80s rock musician and an ardent home chef. Both Erin and Noah hail from the beautiful Hudson Valley Village of Nyack—and both are proud members of the Stage Actors Guild.

Here are so many exceptional thing s about this story that it's hard to capture all of them in a short review. So I'm going to lay down just some of the aspects that I believe are interesting and that can capture your attention.
"Crossing in Time" is a combination of many elements. We have love that can withstand time and while that, the world is collapsing. Yup, collapsing. Too many things happen in the same time – bombs, invasions, Ebola and with all these, two people find a way to love each other over and over again. In the beginning I was not very convinced about their relationship, since Isabel and Diego did not have the best start ever as a couple. Over time, they become close again even if the world has other plans.
Do you thing the combination between love, time travel and world destruction is too much? Well, it can be, sometimes. I felt a little overwhelmed of the many things happening and at some point it was hard to consider it as one story.  I was experiencing two different things. On one hand, we have the specialist analyzing facts and trying to understand what's happening, and on the other hand we have a couple who's just trying to enjoy their life together.
Since I had the privilege to enjoy the book in audio format, the narration was fabulous. Noah Michael Levine and Erin deWard bring characters to life. They share the joy and the pain in such a vivid way. They are perfect when narrating books together. I've heard them before and now I was even more impressed since one character has a Spanish accent and there is another one which sounds British. They are so, so incredible!
All in all, this is a great book, with perfect narrators and it is a story for everyone. It has mystery, romance, conspiracy and twists. 4 stars from my end! Happy Reading!
I received these audiobooks as part of my participation in a blog tour with Audiobookworm Promotions. The tour is being sponsored by D.L. Orton. The gifting of these audiobooks did not affect my opinion of them.

Between Two Evils Giveaway: $50 Amazon Gift Card

Book 1
May 20th:
May 21st:
May 22nd:
May 23rd:
May 24th:
May 25th:
May 26th:
Book 2
May 27th:
May 28th:
May 29th:
May 30th:
May 31st:
Jun. 1st:
Jun. 2nd:
Book 3
Jun. 3rd:
Jun. 4th:
Jun. 5th:
Jun. 6th:
Jun. 7th:
Jun. 8th:
Jun. 9th: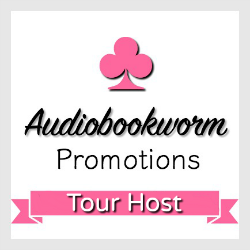 ➜Sign up as a host here