Author: Tena Stetler
Narrators: Kate Tyler
Series: Lobster Cove, Book 1
Length: 9 hours 47 minutes
Publisher: The Wild Rose Press
Released: Oct. 19, 2017
Genre: Paranormal Romance


Pepper McKay comes from a long line of powerful witches. Unfortunately, magic brings her nothing but trouble. She learned the love of wildlife rescue and rehab from her Aunt Ashling. After graduating from college, Pepper works for Salem Wildlife Sanctuary and lives from paycheck to paycheck until she inherits the McKay property in Lobster Cove. With the family land and resources, she dares to dream of starting her own wildlife rescue and rehabilitation center.

Lathen Quartz, a former Navy SEAL turned handyman maintains the enchanted McKay property for the McKay estate. But someone is trying to steal the McKay magic. Lathen offers to help Pepper achieve her life-long dream of building a wildlife center. During the long hours spent together on the project, their mutual attraction can't be denied. But each harbors a deep, dark secret. Will they overcome their demons and give love a chance?



Best-selling author, Tena Stetler, has an over-active imagination and writes award-winning paranormal romance novels. She wrote her first vampire romance as a tween, to the chagrin of her mother and the delight of her friends. Colorado is home; shared with her husband of many moons, a brilliant Chow, a spoiled parrot and a forty-five-year-old box turtle.
Her books tell stories of magical kick-ass women and mystical alpha males that dare to love them. Well, okay there are a few companion animals to round out the tales. Travel and adventure flourish in her novels. Any summer evening, you can find her curled up in front of a crackling fire with a good book, a glass of raspberry iced tea and a bowl of popcorn.

Kate Tyler is an audiobook narrator and producer with several published audiobooks available on Audible, iTunes and Amazon. A background in drama and a successful career in voiceover, Kate lives with her family in San Diego and enjoys swimming, running, cycling and stand up paddleboard.

Give me a story about witches, put some love inside and top it all with a dose of mystery and I am hooked. That's a success recipe for me (I can think of a few other "ingredients" but don't apply for this story at the moment).
"Lobster Cove" series starts pretty good. We have a witch trying to settle into her new home, plan for future and fall in love. But who would have thought that she and her new partner would both harbor secrets. The relationship between Pepper and Lathen is intense and their connection is very well captured. The hero in him starts acting once Pepper's legacy is in danger. Let's see if they manage to combine their abilities and solve the conflict J
Normally, I would be more than happy to brag about the magic and all that. However, I feel that in case of "A Witch's Journey" the accent was more on the romance than on the actual magic. Yes, the plot is around that, but I would have wanted more action and more danger. There are many elements thrown in there, but not linked well enough and angles that could have been better explored.
The narration was excellent. Kate Tyler's talent at disguising her voice and put feelings in all the lines made me enjoy the book even more. I liked her voice and, most importantly, I liked the fact that I could know, from the tone of her voice, who was talking. He is a great narrator indeed!
All in all, I'm giving the story 3.5 stars, rounded to 4, for a great narration. The book is great for fans of love and witches, but from action point of view, there is a potential that is yet to be explored. Looking forward for the next books. Enjoy J
I received this audiobook as part of my participation in a blog tour with Audiobookworm Promotions. The tour is being sponsored by Kate Tyler. The gifting of this audiobook did not affect my opinion of it.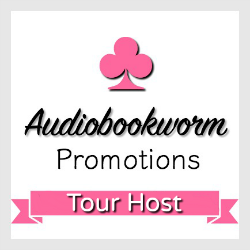 ➜Sign up as a host here