Author
: D.L. Orton
Narrators
: Noah Michael Levine and Erin deWard
Length
: 10 hours 45 minutes
Publisher
: Rocky Mountain Press⎮2017
Genre
: Science Fiction, Romance
Series
: Between Two Evils, Books 3
Release date
: Nov. 10, 2017


From the award-winning author D. L. Orton comes book 3 in the Between Two Evils series….

Shannon fights to stay alive inside a rogue biodome and discovers something totally unexpected…Peter.

Lani is forced into the role of the reluctant heroine, but rediscovers her street-kid mojo and sets out to reclaim everything she's lost.

Diego receives another dirty sock (with a note) from the fireball express: The window between universes is closing. If he has any hope of getting back to Iz, he must get to the mountain and fix the time machine before it's too late.

What could possibly go wrong?





AWARD-WINNING AUTHOR D. L. ORTON lives in the Rocky Mountains where she and her husband are raising three boys, a golden retriever, two Siberian cats, and an extremely long-lived Triops.

In her spare time, she's building a time machine so that someone can go back and do the laundry.

Noah Michael Levine and Erin deWard are Audie Award-winning narrators who have recorded over 40 titles together. They are passionate about acting and, in particular, the medium of audiobooks. The two love working together and have a ridiculous amount of fun playing off each other in the recording booth. Erin is deeply involved in the Audio Description community, translating visual images in media into aural pictures for people with low or no vision. She also performs Shakespearean text with The Strange Bedfellow actors troupe. Noah is a recovering 80s rock musician and an ardent home chef. Both Erin and Noah hail from the beautiful Hudson Valley Village of Nyack—and both are proud members of the Stage Actors Guild.

This third book shows just how broken the world is after the incidents in book 1. We see different groups, trying to make their lives as comfortable as possible, each with their own set of rules, one more brutal than the other. It's even more complex than the other books (if that were possible), since it follows more perspectives and well, it just gets more complicated.
Diego is torn between disappointing his new girlfriend, trying to get back to his old one (while seeing her in this new universe married to his enemy, who now is actually friendly) and meeting his daughter (who in this universe is not dead). Lani goes out of her comfort zone and we see her as the strong and combatant woman she really is (not only brains). And Shannon? She is such a surprise. I almost forgot about the entire Diego and Isabelle's story and wanted to know if she manages to get back to her family.
All the characters evolve and show new sides to their personalities. Time gets shorter by the minute and I was wondering if Diego will find his piece eventually. And if he wil, where will that be? Yes, I told you this was difficult!
The narration was as wordeful as always. After so many books narrated by this duo, I know that every audiobook that involves Noah Michael Levine and Erin deWard is bound to be a success from this point of view!
All in all, this series had me standing on the edge of my seat! But out of the three books, "Dead Time" is definitely the best. It has a lot of action, it has good quality suspense and characters that fight – the psychological aspect is so well evidentiated and here is where the strength really is! I loved it so much and I cannot wait to find out what happens next! 5 out of 5 stars!
I received these audiobooks as part of my participation in a blog tour with Audiobookworm Promotions. The tour is being sponsored by D.L. Orton. The gifting of these audiobooks did not affect my opinion of them.

Between Two Evils Giveaway: $50 Amazon Gift Card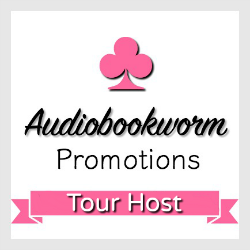 ➜Sign up as a host here