Author: Lilly Atlas
Narrator: Noah Michael Levine and Erin deWard
Series: Trident Ink, Book One
Length: 5 hours 51 minutes
Publisher: Lilly Atlas Books LLC
Released: Apr. 16, 2018
Genre: Erotic Romance


Alyssa Jackson is one of the lucky ones. She has a thriving business, great friends, devoted husband, adorable daughter, and a scorching hot sex life that would be the envy of any married couple. Then, one tragic loss flips her world upside down. Floundering and unsure of how to cope with their grief, Alyssa and her husband drift apart until they are living as roommates instead of a deeply connected couple. Alyssa will do anything to get the intense passion back into her life and marriage, no matter how far out of the box she has to step.

If there is one thing tattoo shop owner Derek knows, it's that once he set his sights on his wife, he never wanted another woman. Years together haven't begun to put a dent in his desire for her. But everything falls apart when the anguish of loss barges into their lives. Adrift in his own suffering, Derek doesn't realize how damaged his marriage is until his wife forces him to confront their issues. Now, he'll do whatever it takes to get their lives back on track, even if the plan seems outrageous.



Lilly Atlas is the contemporary romance author of the award-nominated No Prisoners MC series. She's a proud Navy wife, mother of two spunky girls, and one crazy pug. Every time Lilly downloads a new EBook, she expects her Kindle to tell her it's exhausted and beg for some rest. Thankfully that hasn't happened yet, so she can often be found absorbed in a good book.

Noah Michael Levine is an Audie Award-Winning audiobook narrator and producer living in beautiful Nyack, NY. His over 180 titles include almost every genre. While he loves his work completely – and collaborating with all kinds of different authors, he does not love writing about himself in the third person.

Erin deWard is an Audie Award-Winning narrator with over sixty titles in genres ranging from Spirituality to Young Adult to Adult Contemporary and others. She's worked on stage, screen, and behind the mic for over thirty years. She is beyond grateful to have come to this place in her life and thanks all of the people and organizations that sped her on her way.

In addition to her love of acting, Erin is passionate about her work as an audio describer, translating visual images in media and performance into aural pictures for people who have low or no vision. She studies and performs Shakespearean text and can most frequently be seen cavorting onstage with The Strange Bedfellows, the adult troupe of the Children's Shakespeare Theatre of New York.

Erin lives in lovely Nyack on Hudson, New York with her husband, daughter, sometimes her college-aged son, and two ill-behaved but loveable dogs, Annie and Benevolio.

Proud member of SAG/AFTRA

Let me start by saying that Lilly Atlas is one amazing author and Noah Michael Levine and Erin deWard for an amazing pair of narrators. So when combining these three persons it is more than obvious that the result would be at least great!
I went into this book with so many expectations, knowing the author's talent to create drama and to bring comfort in the end to the characters. All went well, with one small exception, which I will comment later in this review. But first let's start with the good points.  We have husband and wife trying to find each other after the loss of their only child. Their grief and inability to communicate brought them to the point of not being able to connect again. We later find out that, through the help of a psychologist, they have a series of dates in which they should pretend to be other people, meet and have an evening that should end in … a steamy situation, if you know what I mean!  And so this happens, until one point.
Alyssa and Derek have managed to survive so much in their years as a couple, even PTSD. However, they were not able to stand the passing of their daughter. The author managed to express so well their pain and the process of coming together, it was impossible for me not to shed a tear or two. We have a step-by-step description of the phases they go through and that's perfect. We have some extremely hot scenes that would increase your heart rate and, as mentioned, two narrators that are simply perfect!
However, I am missing from the story some information regarding the two years they have been apart. For me, not knowing how exactly the distancing happened makes the story a bit incomplete. By the end, I understood that the focus was more on how they come back together, but still, I wanted to see them fighting, or arguing or something like that.
All in all, I cannot but give 3.5 stars to Lilly's book and I am so waiting forward to read/listen to more of her books. She is an author that manages to touch my heart and her stories contain life lessons for us all. Congratulations to her and the narrators for such a great job!
I received this audiobook as part of my participation in a blog tour with Audiobookworm Promotions. The tour is being sponsored by Lilly Atlas. The gifting of this audiobook did not affect my opinion of it.

Escapades Giveaway: $25 Amazon Gift Card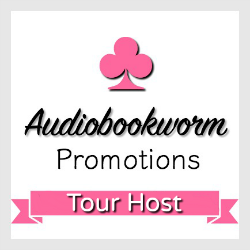 ➜Sign up as a host here