Author: Olivia Boothe
Narrator: Vanessa Moyen
Length: 11 hours 29 minutes
Series: Chronicles of a Dancing Heart, Book 1
Publisher: The Wild Rose Press
Released: Apr. 23, 2018
Genre: Contemporary Romance


Former dance student Sara Hart had aspired to grace the stage on Broadway, but a reckless decision forced her to renounce that dream. Years later, while struggling with an unsatisfying job and an even more unsatisfying love life, she literally stumbles upon a dangerously sexy stranger who sends her heart – and her body – into hyper-drive. His touch makes her feel alive again and sparks a desire to rebuild her dance career. But Sara is still haunted by the demons of her past. One dark lie could cost her everything.

Real estate mogul Tom Wright caters to the rich and famous. He lives the life of the perfect bachelor, partying hard, and dating the most beautiful women in Manhattan. But he has one golden rule – no commitments. Ever. Then he meets sexy Sara Hart, and something about her makes him want to throw the damn rule book out the window. Every time she's near, the blood in his veins pulses with a raging fire he can't contain. But Tom's shadowed history is resurfacing, unearthing ghosts he'd rather remain buried.

Will this wicked dance be their last?




An author of deep and sexy contemporary romance, Olivia Boothe enjoys crafting novels about complex characters and compelling storylines. Her romances encompass a blend of heartfelt emotion and steamy passion.

A coffee addict and red wine lover, when she's not busy conjuring up a new story, Olivia likes to binge read across genres. You'll typically find her with one book on her e-reader, a second on her phone, and a print book in her oversized handbag. Olivia resides in Northern New Jersey with her husband, their three boys, and a miniature dachshund.

A California native, Vanessa grew up tapping her toes in the theatre world and holds a Bachelor of Fine Arts in Musical Theatre from Emerson College in Boston. She now lives in New York City where she works as an actress and producer for the stage, screen and behind the mic! Aside from audiobooks, her voice can be heard on Nickelodeon, MTV and HGTV.

Tom and Sarah: two very different people, brought together by the need to love and feel loved again, both surpassing loss and overcoming addictions. This is what Olivia Boothe brings us. This is an emotional story that captured me from the word "Dance" and made me spend all the minutes in this audiobook just focused on their lives .
The story is told mostly from Sarah's point of view, but from time to time we get to see what Tom is thinking and I believe this makes for a complete picture of their relationship. Also, we see a little of what is like to be a dancer and how important it is to be seen. There is a scene in the book which could have been better developed, involving one of the dancers and the choreographer that is quite shocking. So there are a lot of things to discover between these pages.
I liked the main characters so much and I liked how the author put in words their passion and how she described their emotions. She is full of doubts and he is conflicted. The instant chemistry between them is new for both and both are scared to let go and enjoy. They both have so much healing to do and they both have to understand that the past is always there and will always be a part of their lives. But the future is something to look forward to. And it is still under construction. And they can do it together or apart.
But as much as I liked them, I disliked their friends. Tom's friend seems only to take advantage of the close relationship he has with him and doesn't seem to keep his mouth shut when needed. Jess, Sarah's friend and roommate doesn't seem to have a life (even if we know she has a boyfriend). I know she is overprotective and cares a lot for Sarah, but still… One moment she encourages her to open her heart and the next is lecturing her on morality and institutes rules for her.
I was also not a big fan of the narration either. Vanessa Moyen did a very good job for the dialogue and the foreign accents but when it came to narrative parts, I did not like her reading that much. While reading Tom's chapters she did not manage to keep the same acting voice when expressing his thoughts and when he was interacting with other characters. Also, Tom has a funny Batman voice.
All in all, I liked this book quite a lot. I loved that it evolved dancing and that it had great main characters that have had to struggle through some bad times but somehow managed to put themselves together. I would go with 3.5 stars, as I felt some arguments between them were not quite solid and the secondary characters and narration were not to my liking that much. I hope you like it and come back with your own thoughts. Happy reading/listening!
I received this audiobook as part of my participation in a blog tour with Audiobookworm Promotions. The tour is being sponsored by Olivia Boothe. The gifting of this audiobook did not affect my opinion of it.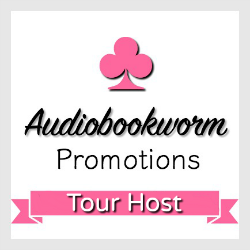 ➜Sign up as a host here