Author: Jennifer Alsever
Narrator: Moira Todd
Series: Trinity Forest Series, Book 2
Publisher: Sawatch Publishing
Released: May 30, 2018
Genre: Young Adult, Paranormal


OSHUN has everything a young pop star could ever want—fame, fortune, and beauty to spare. But there's something dark inside of her, rising like the tide, fighting to be heard. Something that terrifies her. Because once she lets it out, she knows there's no going back.

EMBER is drowning. Fighting for consciousness, struggling to make sense of the strange dreams she's been having—prophecies of murder, deception, and blackmail. But once she begins to untangle them, she realizes that they might not be dreams at all…and if she doesn't find a way to stop what she's seeing, more people will die.

MADDIE is barely staying afloat. How can she be expected to care about school when her best friend Ember is still missing, presumed dead? So when Ember's brother calls and tells her about his theory about a pop star who may be involved in Ember's disappearance, she rallies him to take a road trip to check it out.


A teenager still lives inside author Jennifer Alsever. She spent two decades as a professional journalist, contributing to such publications as Fortune Magazine, the New York Times, Inc Magazine and the Wall Street Journal, before letting her imagination run wild in 2016. The result is Ember's story told in the three-book Trinity Forest Series, her first published fiction work.
When not absorbed in writing, Alsever enjoys a good hike, doing some yoga, hanging with her boys, some moguls on skis, a rigorous mountain bike ride or indulging in the simple pleasures of life. Her favorites: untouched snow, frozen chocolate chips, savasina on a yoga mat and yes, bowls of pan fried brussels sprouts. Jennifer is working on her upcoming novel, Psychic Monkeys, to be released in 2019.

Moira Todd is a Washington, DC-based actor. She originally hails from Mt. Hood, Oregon where the trees are always green, the mountain is always pointy, and the weather is usually rainy. It was there that she learned the secret arts of alpine skiing and whistling at the same time as you hum. While neither has proved useful in her theatre career, she remains hopeful. These days she spends most of her free time swimming, baking bread, and watching whale documentaries.

This is such a perfect continuation of the series. It is absolutely amazing and brings the story so much complicated things. We get multiple perspectives that make experiencing the action complete. I liked everything and every character speaking.
We have Oshun vs Ember. Two different personalities, tied together by so much more. One trying to overcome the other. We have a brother on the edge of obsession, trying to find his sister and a best friend who just does not know how to deal with losing Ember and also her brother. Let's mention the intense connection between Tre and Ember, their bond, their unbreakable connection. He will do anything to come back to her, to reach her. But will he manage it or will he lose himself in the process?
Definitely this is a great follow up and it exceeded my expectations from the end of book 1. The action will keep you hooked, as the need to see if Ember will be reunited with her family and friends will push you to listen for hours. But as interesting as the main plot is, we have Jared and Maddie's story also. Her effort in being there for Jared and her struggle to keep up with him are so well described.
I love that we have an inside to the negative character's perspective. Xintra's belief, her blind faith in the dark magic and the Annunaki goes beyond obsession. She and Zoe are the characters that complete the picture. We see everything from everyone's POV. And that's awesome!
As for the narration, Moira Todd has such a lovely and gentle voice. And her singing is awesome!! I liked that she brought melody to Ember's lyrics and I liked the emotion she added to her interpretation. Same as in the previous book, I would have liked a little more diversity with the voice changing department. But nothing else to complain about.
All in all, this was great! I can't wait to read/listen to the next book in the series! Jennifer Alsever is an amazing author and I believe she did such an amazing job with "Trinity Forrest"! Loved it, 5 stars no doubt!
I received these audiobooks as part of my participation in a blog tour with Audiobookworm Promotions. The tour is being sponsored by Jennifer Alsever. The gifting of these audiobooks did not affect my opinion of them.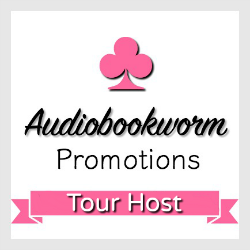 ➜Sign up as a host here