Author: Lisa Becker
Narrator: Suzanne Barbetta
Length: 8 hours 11 minutes
Publisher: Lisa Willet Becker
Released: May 30, 2018
Genre: Contemporary Romance


clutch: a novel is the laugh-out-loud, chick lit romance chronicling the dating misadventures of Caroline Johnson, a single purse designer who compares her unsuccessful romantic relationships to styles of handbags – the "Hobo" starving artist, the "Diaper Bag" single dad, the "Briefcase" intense businessman, etc. With her best friend, bar owner Mike by her side, the overly-accommodating Caroline drinks a lot of Chardonnay, puts her heart on the line, endures her share of unworthy suitors and finds the courage to discover the "Clutch" or someone she wants to hold onto.



Lisa Becker is a romance writer who spends her time like she spends her money – on books and margaritas. In addition to Clutch: a novel, she is the author of the Click trilogy, a contemporary romance series about online dating and Links, a standalone, second chance romance readers call light, fun, sexy and smart. As Lisa's grandmother used to say, "For every chair, there's a tush." Lisa is now happily married to a wonderful man she met online and lives in Manhattan Beach, California with him and their two daughters. So, if it happened for her, there's hope for anyone! You can share your love stories with her at www.lisawbecker.com.

Suzanne Barbetta became a voracious reader when she realized the magic of books allowed her to become anyone, anywhere, and in any world. A storyteller and performer since age 5, she later apprenticed at 2 regional theaters and earned her Actor's Equity card. She's also a proud member of SAG-AFTRA, the Audio Publishers Association and the League of Professional Theatre Women. Audiobooks are a way to satisfy her pathological addiction to reading. Now based in NYC, she is also the voice of the Fierce, Funny, Fab Fangirls of the series Geek Actually for Serial Box Publishing.

Funny, full of adventure and even inspiring – that's how I would describe "Clutch". And why is that? Because our main character goes through embarrassing moments, has witty lines that put a smile on your face and all her poor choices in men are a bit funny too. Even if making fun of someone else's misfortune is not very polite, let's make an exception, ok ?
Caroline Johnson had the courage to pursue a career in what she loved most, designing and making clutches and other kind of bags that women could easily afford. She had the ambition to create her own brand, her own line of accessories, following her aunt's advice to find what she loves and hang on to that. However, her good eye for business does not apply when it comes to her love life. With a steady income that allows her a more than decent lifestyle, she is now trying to find the right man for her. She goes out with these guys but none of them feels like the right one. We see her with men as different as bags, one better (or worse) than the other. It will be a true adventure, with a lot of smiles.
It is easily observed that Caroline has two constants in her life: her job and her best friend Mike. He is always there for her, supporting every decision and encouraging her. But he has his own adventures with women. We see them both dating, but while one is looking for something steady, the other is just "sampling" J
I loved the narration! Suzanne Barbetta has such a beautiful accent and her voice is perfect for the character! She is absolutely fantastic! I would not have imagined a better interpretation J
To close my review, even if Caroline's personality is a bit conflicting, this makes her human, this makes her genuine in a way.  I was mentioning that this book may even be inspiring. Well, for me, it was. There are some words of wisdom added between the pages and I will keep them in mind. 4.5 stars and I gladly recommend it for a fun relaxing read! Enjoy J
I received this audiobook as part of my participation in a blog tour with Audiobookworm Promotions. The tour is being sponsored by Lisa Becker. The gifting of this audiobook did not affect my opinion of it.

Clutch Giveaway: Holly A. Jones Oversized Clutch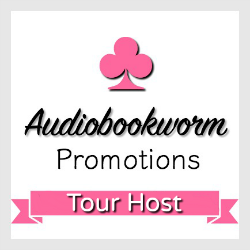 ➜Sign up as a host here