Author: JT Lawrence
Narrator: Jean Ann Douglass
Length: 4 hours 1 minute
Publisher: Fire Finch Press⎮2018
Genre: Science Fiction
Series: When Tomorrow Calls, Book 0.5
Release date: Jul. 3, 2018
The Handmaid's Tale meets Mr. Robot in this smart, sexy, cyberpunk thriller.

2021. A tribe of surrogates. A terror cult. A deal struck in desperation.

Keke is a biopunk journalist who won't stop till she exposes the truth. Will her reckless ambition help the surrogates, or harm them?

Join Keke on her mission to uncover the biggest story she's ever encountered. You'll meet Jasmine and Marko and get pulled under with Kirsten, who's on the cusp of her own nail-biting story.

Ready for your new pause-resisting addiction? Grab the prequella for the futuristic conspiracy thriller series When Tomorrow Calls now.



JT Lawrence is a bestselling Amazon author, playwright and bookdealer based in Parkview, Johannesburg. She is the mother of two small boys and a baby girl, and lives in a house with a red front door.

Jean Ann Douglass is an actor, playwright, producer, and voice artist living in Brooklyn, NY. She has recorded regional and national commercials, and numerous apps that assist kids learning how to read. She performs and co-creates work with Eric John Meyer for Human Head Performance Group, an internationally touring theater company. As a writer, her work will be seen at Underbelly at the Edinburgh Fringe this August.

For its short length, this novella is quite complex, full of action and character development. Full of twists and complications, "The Stigma Surrogate" grabbed me from the very beginning.
A species on the verge of extinction, a virus, corporations trying to find solutions and a journalist caught between doing what's right and going her job – this is what this book offers. Considering this is only the prequel to the actual story, I can tell you it is more that detailed and it shows a lot from our character's personalities. The blurb is just a little of how explosive the things are in this book. I listened to the audiobook in just one sitting as I was so curious to see what's going on. We also have a lot of diversity, with Keke being gay and all the action happening in a south African World.
The author has managed to create an incredible world with great and strong female characters. There is also a bit of alternation between text messaging and narration, which is quite welcomed. The descriptions take you right there with our journalists and their feelings are well captured.
I liked the narration as well, Jean Ann Douglass did a very good job. Although I would have wanted a little more of the voice acting, she did transmit the emotions and the mystery of some scenes.
All in all, I liked it and I cannot wait to see what happens in book 1 – 5 stars. Enjoy 🙂
I received this audiobook as part of my participation in a blog tour with Audiobookworm Promotions. The tour is being sponsored by JT Lawrence. The gifting of this audiobook did not affect my opinion of it.

When Tomorrow Calls Giveaway: Audiobook & eBook Set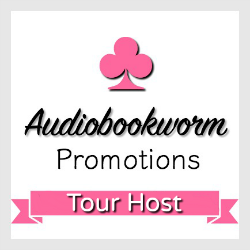 ➜Sign up as a host here