Author: Elizabeth Kirke
Narrator: Starla Huchton
Length: 14 hours and 34 minutes
Publisher: Elizabeth Kirke
Released: July 4, 2018
Genre: Young Adult; Fantasy


Jen Maddox is a few days into her summer study-abroad program and has loved every moment on her cruise ship turned college campus. Everyone tells her the experience will change her life, but none of them realize just how right they really are.

One night, Jen goes out on deck and encounters five other students. She knows Charlie from one of her classes, and he's a funny, friendly, regular guy. Picture-perfect Dani and his gorgeous wife, Mariana, live right down the hall from Jen, and she has seen TS, who's built like a truck, around the ship, and recognizes the cute but quiet Thomas as well.

Then Jen sees something that isn't humanly possible. Jen would have thought that it was all a dream if not for the fact that Charlie, Dani, Mariana, TS, and Thomas are making every effort to cover it up. Suddenly, the five of them are everything but normal, and Jen is determined to figure out what they're hiding.

When she does, her life really does change. Jen expected to spend her summer studying the cultures of Latin America; she never dreamed she'd learn about a magical culture instead.

But Jen's childhood fantasy come true is about to turn into a nightmare; there's something on the ship. Something dangerous. Suddenly, everyone on board is threatened by a creature that Jen never even believed existed. Jen and her new friends might be the only people who can stop it!

Now Jen has to learn everything she can about her new world before it kills her. And her friends. And maybe everyone on the entire ship.





Elizabeth Kirke lives with her husband, two young sons, a hound-mix, and two turtles. She wanted to be an author before she even knew what an author was. She used to say that she wanted to be an artist, but that was only because she was too young to write and had to tell stories with pictures instead. She hasn't stopped writing since she learned how. It wasn't long before she dreamed of becoming an author and couldn't be happier now that that dream is a reality.
If she isn't writing, she's probably doing something involving books, baking, gardening, or yarn.
Like most slightly-nosy, avid readers, Elizabeth can't resist trying to catch a peek at books she sees people reading when out in public to see if she can figure out what it is. While doing just that one day, she realized that it would probably be the coolest-thing-ever if she caught a complete stranger reading one of her books. That's her new dream.

Since debuting her narration skills in 2009, Starla Huchton has lent her voice to many podcasts and audiobook productions. She has read both character parts and main narration for authors such as Tee Morris, Philippa Ballantine, and Lindsay Buroker, and her work spans across both fiction and non-fiction in multiple genres.

What we have here is … great! You know how they say that books are like a door to another realm ? Or like a mirror into someone else's existence? Well, this is the case with this book. "Semester Aboard" is a world of magic, on a ship, where teenagers learn and experience new places and much more. It's so complex and so gripping!  
Jean has seen something that she shouldn't have and with that, she is pushed or dragged right into this magical world she had no idea it existed. I don't want to tell more as this book will surprise you with every chapter, every page. I'm just saying that we have a very interesting magical system, we have a lot of magical beings, for all tastes and preferences, we have a lot of twists and a lot of moments that will keep you wanting more.  
The characters are all interesting, not only for their abilities but also as individuals. One is funny, another is more serious, we have a relationship that has been going on for some time, we have a relationship forming. We have friendship that builds surely, but gets stronger by the page. I love their interaction and the dialogue is very interesting and funny at times.  
Another interesting fact is that, while we have a world of magic unfolding before us, we have a group of students aboard a ship, on sea, traveling from place to place and studying. So while we get to see that on board, we see a lot of the outside world. The descriptions are fantastic and I felt a part of their trips and explorations.  
While I had the advantage to listen to the audiobook, this is still a 14h audio. But the narrator did a wonderful job in my opinion. The way she acts each character helped me experience their emotions better and made me even more addicted to this novel.  
All in all, Elizabeth Kirke has created something that I love and I want so much more! I cannot wait to read more of this world and follow up on the characters. They evolve so much in "Semester Aboard" so I am curious to see what will happen next. Amazing!
I received this audiobook as part of my participation in a blog tour with Audiobookworm Promotions. The tour is being sponsored by Elizabeth Kirke. The gifting of this audiobook did not affect my opinion of it.

Sep. 13th:
Sep. 14th:
Sep. 15th:
Sep. 16th:
Sep. 17th:
Sep. 18th:
Sep. 19th: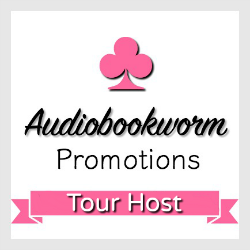 ➜Sign up as a host here