Author: C.A. Gray
Narrator: Rebecca McKernan
Series: Piercing the Veil Trilogy, Book 1
Publisher: Wanderlust Publishing
Released: July 19, 2018
Length: 11 hours 46 minutes
Genre: Young Adult, Fantasy


Peter Stewart grew up on a unique version of the Arthurian legends taught him by his father, a harebrained quantum physicist who asserts that anything is possible. But Peter disbelieves anything which cannot be scientifically explained, despite a nagging sense that there is more to the world than meets the eye.

Lily Portman is an orphan with a secret: she can see creatures that are invisible to everyone else. These creatures control every human being she has ever met to varying degrees…until she meets Peter and his father.

When a mysterious stranger stages an accident which nearly costs Peter and Lily their lives, suddenly Lily learns that she is not crazy after all, and Peter discovers the truth of his father's stories…including the existence of Arthur's ancient nemesis, one who calls himself the Shadow Lord, and a prophecy with implications so profound that it will alter not only the course of their lives, but potentially the fate of the world.



By day, C.A. Gray is a Naturopathic Medical Doctor (NMD) with a primary care practice in Tucson, AZ, and she writes medical books under her real name (Dr. Lauren Deville). She lives with her husband, with whom she maintains a facetiously contentious movie review blog, and travels as often as they can get away. When not writing or seeing patients, she does yoga, drinks red wine while eating dark chocolate, and consumes audiobooks like there's no tomorrow!

Born in the eighties, her formative years in the nineties, Rebecca's taste in music and fashion never really had a chance. Fortunately, you can't tell these things from her writing or voice over work. Her first novel, Trespasser, is as dark as her neon is bright, and you'd never guess from hearing her that she's narrating science fiction in nothing but unicorn pants. Currently residing in London, Rebecca is passionate about travel, and has a good- albeit sometimes dubious- ear for accents. She graduated from the Royal Central School of Speech and Drama with a degree in something or other, has a background in musical theatre, a past career in burlesque, and is a classically trained opera singer. Oh, and she likes greyhounds. And wine.

I have listened to C.A. Gray's books and probably this will be a month full of reviews for those. She brings us this time another fabulous story, with a fabulous world and great characters! I am used by now with her amazing writing and to her way of sending us exploring, to her way of capturing our attention and … blowing our minds! Oh, and the covers! All her books have such beautiful covers!
Ok, back to "Intangible". The author takes a legend and turns it into so much! One normal girl, who can see things beyond our world (yup, normal alight) discovers things she shouldn't. She had no way of knowing she was already one step in, because she was already different. And with Peter at her side, there are promises for so much more.
We have great characters and a great base for our plot. But what I mostly liked was the world and all that comes with it. I mean, this book is not a short one. It has 12 hours almost. But I didn't know when the time went by. I was so captivated and I wanted to know what happened next. And I cannot wait to follow with the next books in the series.
The narration was quite ok. It was a clear narration, although I must admit I would have liked a little more voice acting and a little more depth to our characters, especially because Lily is one strong girl. But other than that, I have no complains 🙂
All in all, I cannot wait to see what happens next and I cannot wait to spend more time in this amazing world! Congratulations to the author for yet another great book!
I received this audiobook as part of my participation in a blog tour with Audiobookworm Promotions. The tour is being sponsored by C.A. Gray. The gifting of this audiobook did not affect my opinion of it.

BOOK ONE
Oct. 4th:
In Pattis Imagination

The Book Junkie Reads . . .

Oct. 5th:
Lilly's Book World

Adventures Thru Wonderland

Oct. 6th:
Notes from 'Round the Bend
T's Stuff
Bean's Bookshelf

Oct. 7th:
Jazzy Book Reviews

Oct. 8th:
Haddie's Haven
Writers N Authors

Oct. 9th:
Lynn's Romance Enthusiasm
Smada's Book Smack
Oct. 10th:
The Book Addict's Reviews

BOOK TWO
Oct. 11th:
In Pattis Imagination

The Book Junkie Reads . . .

Oct. 12th:
Lilly's Book World
Bean's Bookshelf

Oct. 13th:
Notes from 'Round the Bend

Adventures Thru Wonderland

Oct. 14th:
Lynn's Romance Enthusiasm
T's Stuff
Writers N Authors

Oct. 15th:
Jazzy Book Reviews

Oct. 16th:
Haddie's Haven

Oct. 17th:
The Book Addict's Reviews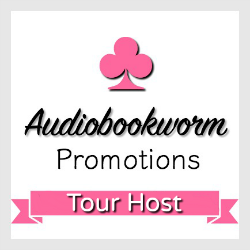 ➜Sign up as a host here